NOWs: Into the Hollow by Julian Charrière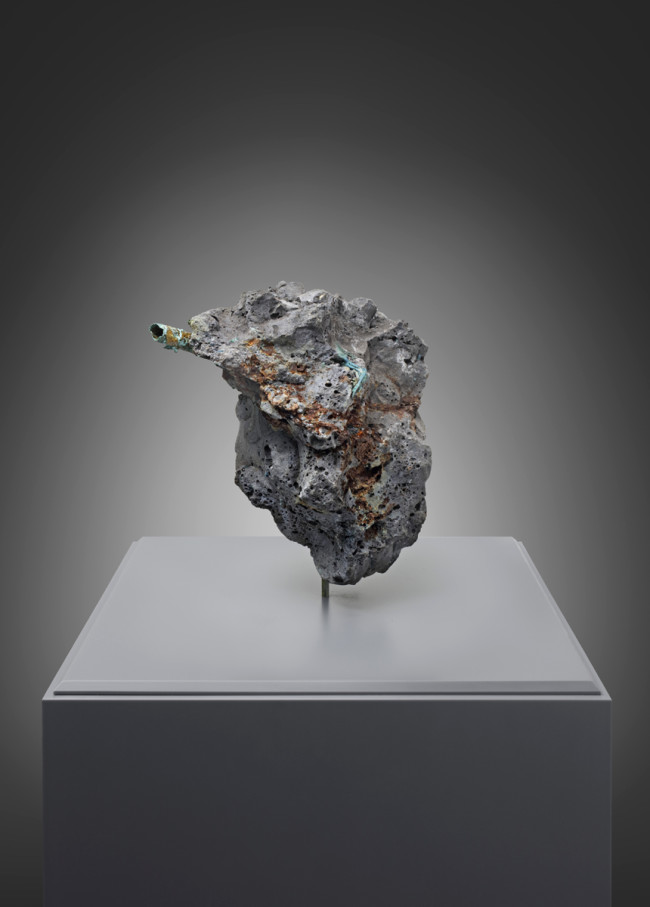 Für seine seine Ausstellung "Into the Hollow" hat Julian Charrière die Räumlichkeiten der Galerie Dittrich & Schlechtriem in ein geologisches Kuriositätenkabinett aus einer möglichen postdigitalen Ära verwandeln. Die Installation zeigt ausgewählte und bearbeitete Stücke geschmolzenen Gesteins in Glaskästen wie topologische Fragmente in einem Museum für Naturgeschichte der fernen Zukunft. Die ausgestellten Objekte sind Hybride aus erstarrtem Magma. Charrière hat sie aufgeschmolzen und umgewandelt und dabei technische Apparate von heute (Smartphones, Notebooks, Festplatten usw.) mitsamt den auf ihnen gespeicherten Daten in das flüssige Gestein eingebettet.
Die seltene Erden, die in solche technischen Geräte verarbeitet sind, werden an verschiedenen Orten rund um den Erdball abgebaut und dann in Länder wie Indien, China oder die Vereinigten Staaten transportiert, um dort zu technischen Geräten zusammengesetzt zu werden; in diesem Vorgang nimmt ein globales Ensemble von Produktionsprozessen gewissermaßen kulturelle Gestalt an. Materialien, die den verschiedensten geografischen Zusammenhängen entstammen, verbinden sich zu physischen Objekten, die uns alle digital miteinander verknüpfen.
Wenn diese veralten, landen sie auf Elektroschrotthalden, wo sie von Hand sortiert und getrennt werden, um neuen Technologien als Nahrung zu dienen und so in den Zirkulationsprozess zurückzukehren. Julian Charrière unterbricht den Recyclingkreislauf, indem er die empfindlichen Geräte vor der Zeit in etwas ganz anderes verwandelt. Mit diesem gewaltsamen Eingriff stößt er eine geo-künstlerische Reflexion auf unsere digitale Konsumkultur, ein 'Geo-Reset' an: Zurück in die Zukunft.
Ein umfangreicher Katalog mit einem Essay von Paul Feigelfeld ist über Galerie erhältlich. Ein aktuelles Interview mit Julian Charrière über "Fossiling the Future" von Penny Victoria Rafferty veröffentlicht sleek magazine.
"Into the Hollow" ist vom 29. April bis 25. Juni 2016 in der Galerie Dittrich & Schlechtriem zusehen.