NOWs: Unruhig bleiben / Staying with the trouble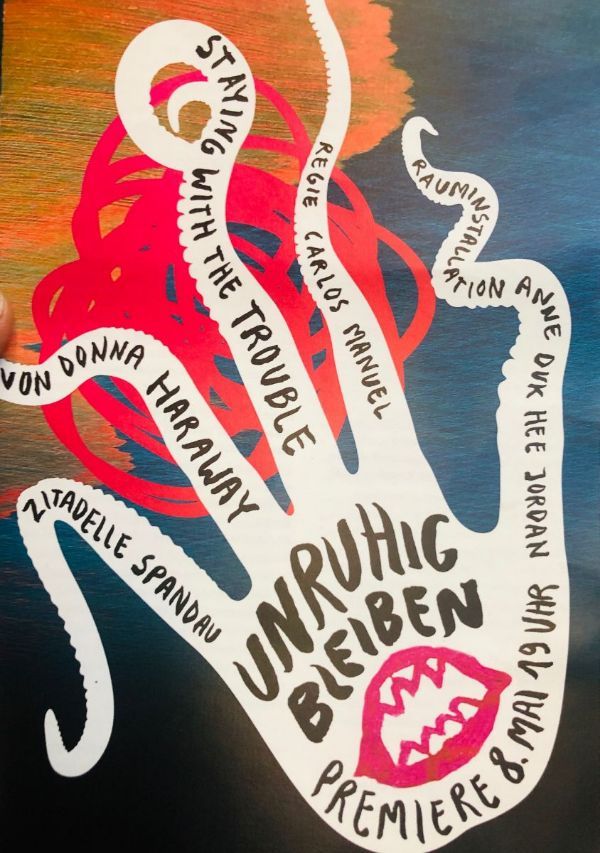 Theatre play by Donna Haraway
Zitadelle, Bastion Kronprinz
Am Juliusturm 64
13599 Berlin
Premiere 8 May, 7pm
How can we reshape living together on a damaged planet? From the early 21st century, the communities of "compostists" committed themselves to radically reducing the world's human population and developing countless practices of cross-species environmental justice.
STAYING WITH THE TROUBLE
follows five generations of a symbiosis between the human child Camille and monarch butterflies between the year 2025 and 2425. Much unrest, much kinship, to carry on.
Sound Objects / Composition: Mathias Hinke
Costumes: Verena Hay
Performers: Fernanda Farah, Franziska Ritter, Helmut Geffke and Josep Caballero Garcia
14 years and older. Registration at: schreiner@jtw-spandau.de
Further performances:
Do 09. Mai, 19:00
Sa 18. Mai, 19:00
So 19. Mai, 16:00
Mo 20. Mai, 11:00
Do 23. Mai, 19:00
Fr 24. Mai, 19:00
Sa 25. Mai, 19:00 (mit Audio-Deskription und Gebärden-Übersetzung (Bühnenführung um 18Uhr)
Mo 27. Mai, 11:00
Mi 29. Mai, 19:00 (im Rahmen des PAF, Performing Art Festival Berlin)
Das Performing Arts Festival Berlin 2019 wird veranstaltet vom LAFT Berlin in Kooperation mit den Spielstätten Ballhaus Ost, Hau Hebbel am Ufer, Sophiensaele und Theaterdiscounter und wird gefördert durch das Land Berlin – Senatsverwaltung für Kultur und Europa.
Gefördert vom Senat Berlin
Eine Kooperation des Kulturamts Spandau und der JTW Spandau