Baghdad Walk II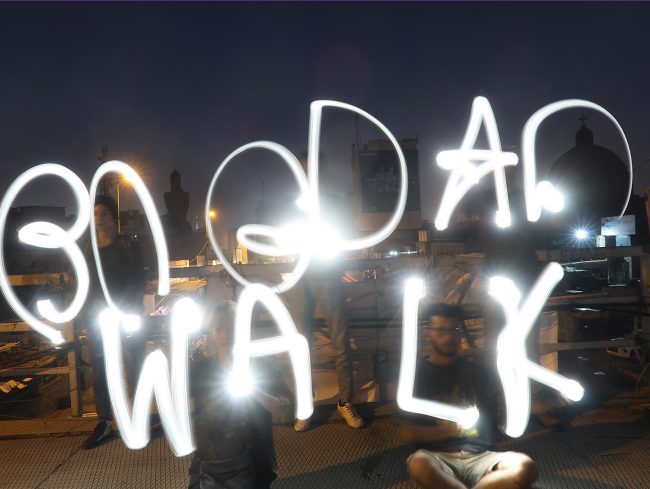 BAGHDAD WALK II
Group exhibition in public space
BAGHDAD WALK is a series of group exhibitions with artworks by emerging Iraqi artists presented in public space and in different locations in Baghdad. Baghdad Walk is an exhibition and a narrative tour of the city. The participating artists connect their works with the specific locations, introducing background information on site. Manifold stories about the city of Baghdad are told and retold anew through the artists' perspectives and the encounters they create.
Baghdad Walk II was originally planned for November 2019. Due to the ongoing protests in Iraq, the sit-in at Baghdad's Al Tahrir Square and the adjacent neighbourhoods, and the strike of Iraqi educational and cultural organisations and institutions, Baghdad Walk II was postponed. The format had to be slightly adjusted and took place in March 2020.
Twelve artists presented their perspectives on memory culture in the neighbourhood around Mutanabbi Street and the Shorja Bazaar, interpreting events and local circumstances that have become part of the collective cultural memory as well as its various forms in the contemporary urban reality. The potential of visual culture to create moments of reflection in contemporary society is activated by the diverse artistic interventions.
The art walk started at the ruins of the former court building Al Mutasarefiya and the Al Mutanabbi Statue on Mutanabbi Street, then proceeded to Al Rasheed Street, meandered through the Shorja Bazaar, circled back to Al Rusafi Square, and ended at Al Mutasarefiya.
Please find the project's bilingual (Englisch-Arabic) website here.
Participating artists: Tabarek Al Atrakchi, Atef Al Jaffal, Loay Al Hadhary, Ahmed Majid, Hella Mewis, Muhaned Mohammed, Hussam Mohammed, Ameen Mokdad, Hussain Muttar, Zaid Saad, Muhaned Taha.
–