NOWs: Hybrid Matter by Andreas Greiner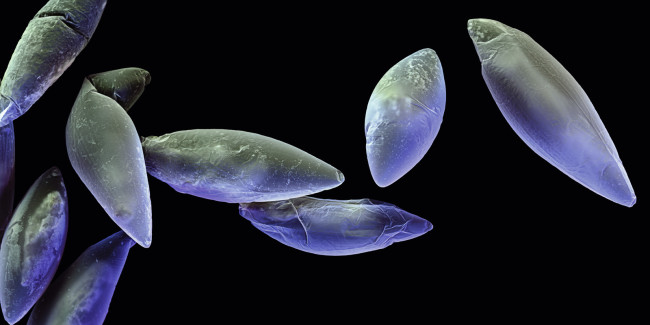 Andreas Greiner: Hybrid Matter

ERÖFFNUNG: FREITAG, 27. APRIL, 18–21 UHR
Zum Gallery Weekend Berlin realisiert der in Berlin lebende Künstler Andreas Greiner neue Arbeiten, die Manipulation und Gestaltung von Natur durch gezielte Genveränderung thematisieren und einen spekulativen Blick in die Zukunft erlauben. Charakteristisch für Andreas Greiner ist die Auseinandersetzung mit der zunehmenden Auflösung der Grenzen zwischen Natur – Kultur/Technik. Was verstehen wir heute im Zeitalter der Digitalisierung und synthetischer Biologie unter Natur? Wie wir Natur erleben, hängt von unserem Vorwissen, unserer Kultivierung und Sozialisierung ab, aber auch was wir als Natur erleben, befindet sich in einem rasanten Umbruch. Menschliche Eingriffe in evolutionäre Zusammenhänge werfen ethische, sozialgesellschaftliche und ökologiekritische Fragen auf.
Die Treppe zum Ausstellungsraum herunterkommend steht eine in Neusilber gegossene Skulptur, die eine Zellteilung darstellt. Dieses Denkmal für den Reproduktionsakt bildet den Ausgangspunkt der Ausstellung. Im selben Raum hängt die Arbeit Edit Yourself KIT, ein DIY Crisper Genome Engineering KIT, mit dem man in der Lage sein soll, seine eigene Genetik zu manipulieren.
Das Hauptwerk der Ausstellung ist die in Zusammenarbeit mit dem Komponisten Tyler Friedman (Text und Musik) entstandene Soundinstallation The Molecular Ordering of Computational Plants, welche den sich verdunkelnden Hauptausstellungsraum der Galerie zum Resonanzkörper eines Sience-Fiction-Hörspiels macht, in dessen Einklang ein luminizierndes Aquarium und Wasserröhren pulsieren. Neue Serien von Fotografien an den Wänden zeigen Mikroskopaufnahmen von Algen (Billions of Heart Beats Slowed Down into Synchronicity) und Tumorzellen (Hybrid Matter Studies und Panorama of a Landscape), die mit Hilfe des Wissenschaftlers S. Diller realisiert worden sind.
"Die Arbeiten im Mittelpunkt von Andreas Greiners Einzelausstellung "Hybrid Matter" geben ein Rätsel auf. Wie überzeugt sind wir von unseren grundlegenden Vorstellungen von Leben und Tod, von Richtig und Falsch? In der abgedunkelten Galerie hängen Bilder von mikroskopischen Zellen in 1.000 bis 10.000-facher Vergrößerung: Klumpen menschlicher Darmtumorzellen und kugelförmiger Ansammlungen von Mycoplasma mycoides, dem Stamm eines synthetischen Bakteriums aus dem J. Craig Venter Institute mit dem Namen JCVI-syn3.0. Greiner versteht diese Bilder als Porträts. Für ihn besteht kein grundlegender Unterschied zwischen ihnen und den überlebensgroßen Bildnissen, mit denen herausragende Individuen des öffentlichen Lebens gewürdigt werden. Diese Werke nutzen und problematisieren die ethischen und existenziellen Implikationen des Porträts als Gattung. Eine Person zu porträtieren heißt immer, ihr Abbild in einem Moment zu fixieren. Von nun an führt sie parallele Leben: Eines ist in unaufhaltsamem Wandel begriffen, das andere wie erstarrt; das eine durch Subjektivität bestimmt, das andere durch die Erzählungen, mit denen Dritte es deuten."
Der oben stehende Textauszug stammt aus dem Essay von Carson Chan, welcher in dem begleitenden Katalog veröffentlicht wird.
Andeas Greiner (geb. Aachen, DE / 1979) lebt und arbeitet in Berlin. Nach anfänglichem Studium der Medizin studierte er an der Hochschule für Bildende Künste in Dresden und schließlich an der Universität der Künste Berlin bei Rebecca Horn und von 2012 -2013 als Meisterschüler im Institut für Raumexperimente bei Olafur Eliasson. Seine Arbeit wurde in zahlreichen Einzel- und Gruppenausstellungen in sowohl nationalen als auch internationalen Institutionen gezeigt. 2016 wurde Greiner mit dem GASAG Kunstpreis der Berlinischen Galerie ausgezeichnet, in deren Sammlung er ebenfalls vertreten ist. Diesen April eröffnete der Kunstverein Heilbronn eine Einzelausstellung mit Andreas Greiner, die eine neue Soundinstallation und Fotoarbeiten präsentiert. Ende des Jahres wird die dritte Künstlermonografie zu Greiners Werk publiziert.