NOWs: Identity Jitter with Jan St. Werner, Toni Lester, Louis Chude-Sokei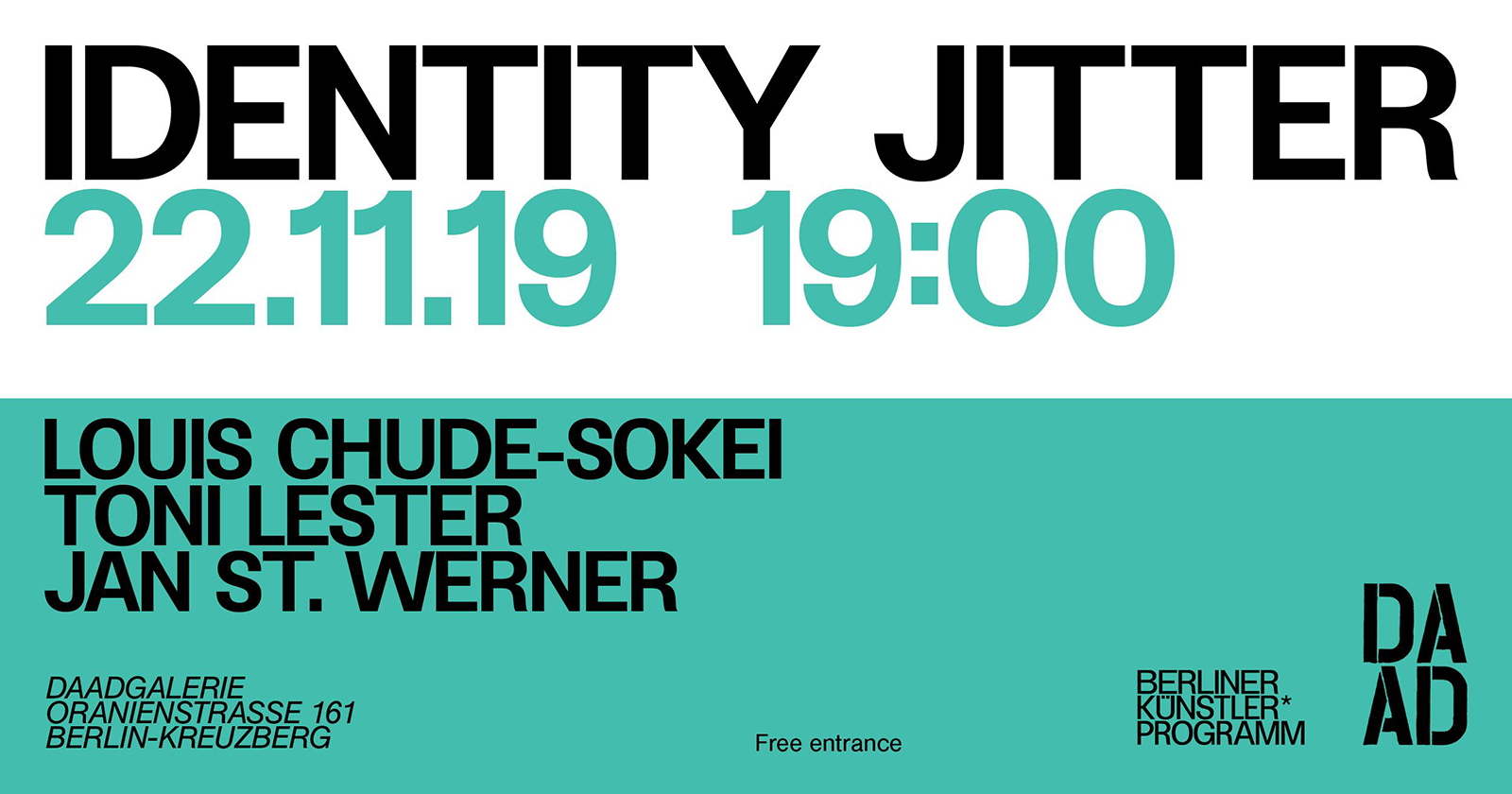 Identity Jitter
Conversation with Jan St. Werner, Toni Lester, Louis Chude-Sokei
daadgalerie
Oranienstraße 161
10969 Berlin
Conversation starts at 7pm (sharp)
Louis Chude-Sokei, Toni Lester, and Jan St. Werner will engage in a conversation about artificial intelligence in sound cultures. Starting with a presentation of an ongoing project by Mouse on Mars titled Anarchic Artificial Intelligence, the discussion will then move onto future scenarios, dangers, and utopias, traversing topics including authorship, identity politics, and ethics. How does the concept of identity change in the age of algorithms? How can sound and art in general not only reflect, but also influence socio-technological developments? How can we harness the potentials of instabilities and fragilities?
Louis Chude Sokei's work includes the award-winning, The Last Darky: Bert Williams, Black on Black Minstrelsy and the African Diaspora (2006), The Sound of Culture: Diaspora and Black Technopoetics (2016) and the forthcoming, Dr. Satan's Echo Chamber and Other Essays. He is the Editor in Chief of The Black Scholar, one of the oldest and currently leading journals of Black Studies in the United States, and a Professor of English and the Wein Chair and Director of African American Studies at Boston University. He is the founder of the Sonic Art/Archiving Project, Echolocution. Louis Chude-Sokei was invited to Berlin with an Arts & Media fellowship.
Toni Lester writes about arts and culture, innovation and creativity, human and civil rights, and privacy and intellectual property thru the lens of critical race, feminist, class and queer theory. She is particularly interested in examining how creative products and practices of marginalized people are produced and later appropriated without consent, attribution or compensation, and the ensuing legal, moral and ethical questions that arise therein. Lester was a member of the Scholar Advisory Group for the 2015 UN Office of Human Rights Special Rapporteur Report on Cultural Rights, Copyright Policy, and The Right To Science and Culture. Publications of note include: Questions of Trust, Betrayal and Authorial Control in the Avant Guard – The Case of Julius Eastman and John Cage (Marquette Intellectual Property Law Review, forthcoming, January 2020); Content-ID-Algorithmen und das Dilemma der falschen Treffer (i.e., Content Algorithms and False Positives in Innovative Music Creation) (with co-author Pachamanova), in: Lina Brion & Detlef Diederichsen (eds.), 100 Jahre Copyright (Matthes & Seitz – Culture Museum of Berlin (HDK) (2019, commemorating HDK's 2018 One Hundred Years of Copyright Conference); and Blurred Lines – Where Copyright Ends and Cultural Appropriation Begins, Hastings Communication and Entertainment Law Journal (2014). Also a sound artist and award winning composer, Lester is a full professor at Babson College in the U.S. and currently a Visiting Scholar at the Kent University Centre for Sexuality, Race and Gender Justice in Canterbury, England.
Jan St. Werner is an artist and experimental music composer based in Berlin. Best known as one half of the innovative electronic duo Mouse on Mars, he has also pursued a solo career creating music under his own name. Starting in the mid-1990s, St. Werner released a steady stream of influential records both as a solo artist and with Mouse on Mars. He has been collaborating with Oval's Markus Popp as Microstoria and writing music for installations and films by visual artist Rosa Barba. During the 2000s, he acted as the artistic director for Amsterdam's Institute for Electronic Music (STEIM). As a solo artist as well as with Mouse on Mars Werner composed music for various ensembles including Musikfabrik, Chicago Symphony, Kaleidoskop or neoN. In 2013, St. Werner released Blaze Colour Burn, the first of a series of experimental recordings on Thrill Jockey Records, Chicago. Fiepblatter Catalogue #5 Spectric Acid was released in 2017. Werner has been a visiting lecturer at the Arts Culture and Technology department ACT of the Massachusetts Institute of Technology MIT and holds a position as a professor for Dynamic Acoustic Research (Dynamische Akustische Forschung) at the Academy of Fine Arts in Nuremberg, Germany.