NOWs: Into The Wild by Anne Duk Hee Jordan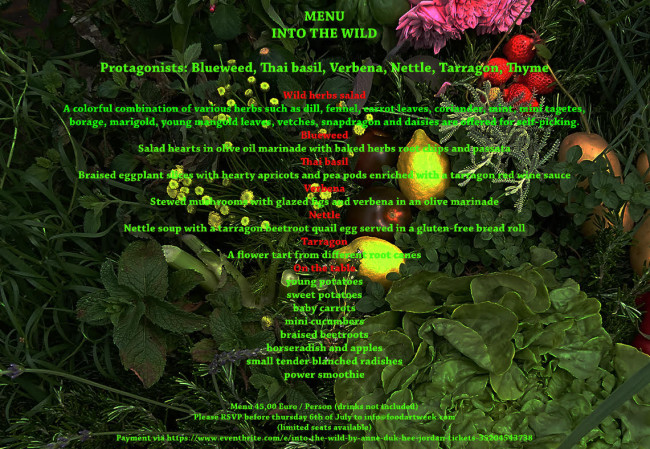 Into The Wild by Anne Duk Hee Jordan

Into The Wild ist ein konzeptuelles Dinner von Anne Duk Hee Jordan das in Kollaboration mit dem "Herbarium Leipzig", im Rahmen der Berliner Food Art Week stattfindet.
Into The Wild beschreibt eine Tafel längst vergessener Kräuter, essbare Duftblumen und alte Wurzelknollen. Die Besucher sind eingeladen sich auf eine genussvolle Abenteuerreise der eigenen Wahrnehmung zu begeheben und den direkten Zugang der dargebotenen Früchte zu verzehren.
Die Tafel stellte eine lukullische Heterotopie dar. Sie weist auf Nutzpflanzen auf die früher auf den einheimischen Märkten angeboten wurden und zwischendurch wieder fast verschwunden sind. Nach und nach kehren die "Alten" wieder zurück. Die Nachtkerze stammt ursprünglich aus Nordamerika und war eine der wichtigsten Heilpflanzen. Im 16.Jh wurde sie als Zierpflanze nach Europa gebracht und in Gärten kultiviert. Man lernte schnell das Potenzial der Pflanze als Gemüse zu nutzen.
Into The Wild wird ein sinnlicher Geschmacksspaziergang werden. Die Besucher gehen zurück zum Basalen und essen mit ihren eigenen Händen, keine Teller, keine Gabeln, keine Messer: ein Tete a Tete mit der Familie der Brennnesseln und Kresse-Arten, alte Knollen zubereitet als Ragout und Bäume einmal anders kennengelernt.
Hallesches Haus
Tempelhofer-Ufer 1
10961 Berlin
Sonntag, 19 h
5 Gänge-Menü
45,00 Euro/ Person
begrenzte Teilnehmerzahl
Ticket buchen.