NOWs: Jan St. Werner + Guests at Ausland
Fiebplatter Catalogue: Jan St. Werner and Guests
concert, salon, club night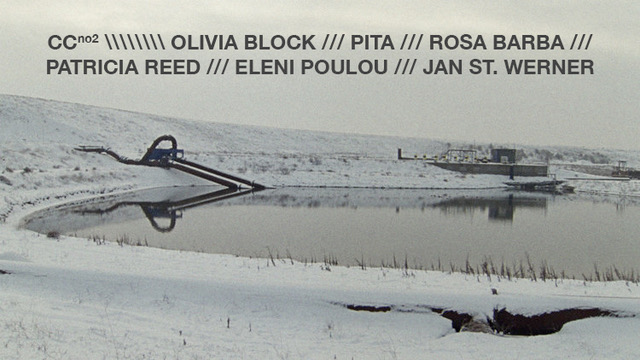 Lychener Str. 60
10437 Berlin
14. März 2020
Doors 19:30 Uhr, Start 20:30 Uhr | 9 EUR | @facebook
– tickets at the door | detailed timetable TBA in March –
CC No. 2 – Craving Coincidence
pt. 1
Premiere! Zur neuen ausland-Reihe CC No. 2 – Craving Coincidence sind sechs Musiker*innen eingeladen, je einen langen Abend frei zu gestalten:
Sie stellen ihren eigenen Auftritt in den Kontext eines heterogenen Programms zwischen Konzertabend, Salon und Clubnacht.
Den Auftakt heute macht Jan St. Werner (Microstoria, Mouse on Mars),
der Olivia Block, PITA, Rosa Barba, Patricia Reed und Eleni Poulou ins ausland mitbringt und zusammen mit Rupert Smyth das Buch "Decay Object" präsentieren wird. Der Abend wird selbst zu einem Teil von St. Werners Langzeitprojekt "Fiepblatter Catalogue".
Am nächsten Wochenende folgt im Projektraum Farbvision das Ausstellungsformat Fiepblatter Short Decay Store.
OLIVIA BLOCKlive
– electronics –
www.oliviablock.net
PITAlive
– electronics –
www.editionsmego.com/pita

JAN ST. WERNERlive
– electronics –
www.thrilljockey.com/jan-st-werner
ROSA BARBA: "Somnium"
– film screening –
www.rosabarba.com/somnium-2011
PATRICIA REED: "Frames of Reference for the Inexistent"
– diagrammatic lecture –
www.aestheticmanagement.com
ELENI POULOU
DJ-Set
yiuu.bandcamp.com

JAN ST. WERNER + RUPERT SMYTH: "Decay Object"
– book presentation –
www.rupertsmyth.com
Cancelled: Sat /Sun March 21/22
FIEPBLATTER SHORT DECAY STORE at Farbvision
In connection to the CC No. 2-live programme at ausland, Farbvision presents an exhibition by Jan St. Werner referring to his long-term project Fieplatter Catalogue on the weekend of March 21/22 including graphics and artwork related to the series, special collectables and the complete Fiepblatter Catalogue-recordings.
Instead of the fiepblatter record store at farbvision, the new book is available at the fiepblatter catalogue bandcamp store: