NOWs: Magic Carpets Italy – Flowing Cities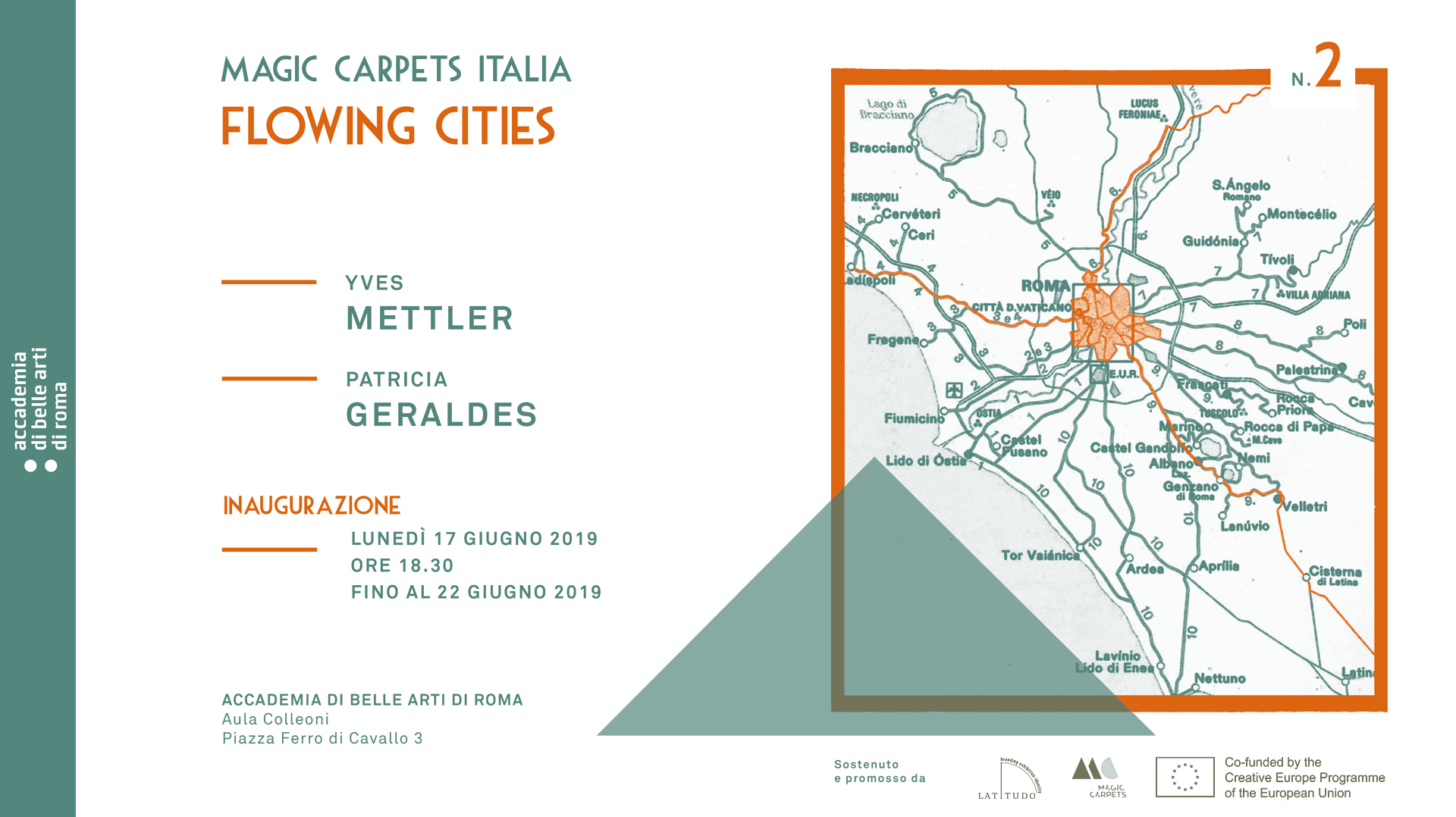 Flowing Cities
double solo show
Accademia di Belle Arti di Roma
Via di Ripetta, 222
00186 Roma
Opening
17 June 2019, 06.30 pm
Flowing Cities is an international artists' residence project created by Benedetta Carpi De Resmini and curated with Giulia Pardini.
Latitudo-Art Projects and the Accademia di Belle Arti di Roma present the exhibition Flowing Cities, a double solo show dedicated to the artists Yves Mettler and Patricia Geraldes as part of the international platform Magic Carpets, now in its second edition, from 17 to 22 June 2019 in the Accademia's exhibition spaces, where an installation by Patricia Geraldes will be on view until 27 June in Piazza Ferro di Cavallo.
For the exhibition, Yves Mettler will present a two-channel video work, projected in the Sala Colleoni, stemming from the artist's research in Laurentino 38. On the walls of the room, a story that the artist prepared during his workshops with neighbourhood youth will be displayed: posters, photos and comics will compete to share the intricate world of the Laurentino.
Patricia Geraldes will present the diaries she created with the residents of the Corviale: photos, memories, collages and drawings will create varying and contrasting visions of the neighbourhood. In the central square, Piazza Ferro di Cavallo, the artist will present a sculpture based on the idea of restoring a virtuous balance between humans and their environment: the site specific work will be composed of branches carved with memories and emotions drawn from her work at the Corviale.
In the spaces adjacent to the Sala Colleoni, there will be a timeline, visual narration of the residences of these two artists, using photos of their time studying and working in Rome, taken by the photographer Luis Do Rosario. Alongside the project carried out in Italy, Magic Carpets sponsors the work of Italian artists abroad, with the idea of cultural exchange between European countries. For this second edition, the artists invited to develop a residence project linked to a place by starting a dialogue with the community were Elena Mazzi, selected by ZK/U di Berlin, and Virginia Zanetti, chosen by Ideias Emergentes in Porto. Along with Luis do Rosario's photos, there are photographs realized by the Lithuanian journalists collective Nanook (Mindaugas Drigotas), who had followed the two Italian artists in their residencies. There are also shown documents and drawings made by the artists themselves.