NOWs: RADITION by Fabian Knecht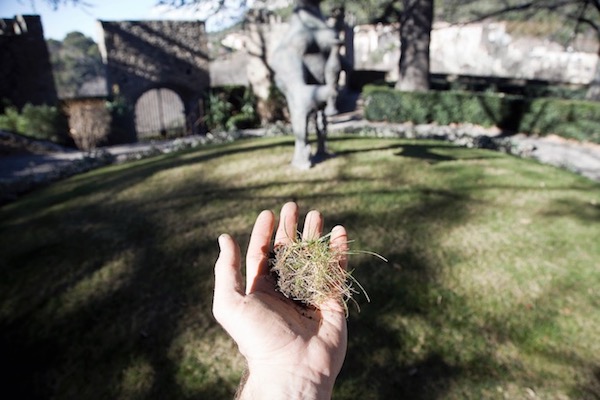 Fabian Knecht: RADITION
im
Eröffnung: Freitag, 31. März 2017, 19 Uhr
Der Kunstverein Arnsberg zeigt die Einzelausstellung »RADITION« des Künstlers Fabian Knecht. Neben vier Werken, die in den Räumen des Kunstvereins zu sehen sind, wird die Arbeit »ISOLATION (Dead Tree)« zur Eröffnung am 31.3. von 18 bis 21 Uhr in einem Waldstück bei Arnsberg öffentlich zugänglich sein.
Der Titel der Ausstellung »RADITION« variiert das fachsprachliche Verb »radizieren« – von lat. radix, Wurzel –, das in der Mathematik das Ziehen einer Wurzel bezeichnet. Metaphorisch verwendet, bezeichnet der Neologismus die Auseinandersetzung mit den Themen ›Entwurzelung‹ und Neuverortung, die in unterschiedlichen Formen und Facetten die Ausstellung strukturieren. Im Zentrum stehen Variationen des mittlerweile klassischen Konzepts des Readymades, das von Knecht invertiert, gedeutet und ebenso vielfältig wie ungewohnt in Stellung gebracht wird.
Ausklappen…
»ISOLATION (Dead Tree)« besteht aus einem Ausstellungsraum – einem ›White Cube‹ –, der für einen Abend um einen entwurzelten Baum in einem Waldstück bei Arnsberg gebaut wird. Das Werk invertiert und verändert allgemein das Konzept des Readymades. Fabian Knecht bringt nicht ein Stück ›Wirklichkeit‹ in den Ausstellungsraum, sondern baut einen klassischen Ausstellungsraum in die Wirklichkeit, um sie herum. Das Waldstück wird mit den schlichten und klaren Formen des White Cubes isoliert, in seiner Komplexität zum Werk erhoben und ›an Ort und Stelle‹ von Neuem sichtbar gemacht. »ISOLATION (Dead Tree)« bildet die derzeit fünfte Konstruktion eines Ausstellungsraums, mit dem Knecht ein Segment der Wirklichkeit – vom Eismeer bis zur Brache – einrahmt und exponiert. Bislang wurden die Räume fotografisch dokumentiert. In Arnsberg wird nun erstmals ein Raum für die Öffentlichkeit zu betreten sein.
Für »ZERSETZUNG« brach Fabian Knecht in das Schloss Vauvenargues bei Aix-en-Provence ein, in dem Picasso in den letzten Jahren seines Lebens gewohnt und gearbeitet hat. Im Zentrum der dortigen Parkanlage befindet sich die Grabstätte Picassos. Die Skulptur »La Femme au Vase«, die zur Weltausstellung 1937 zusammen mit »Guernica« ausgestellt wurde, markiert die letzte Ruhestätte. Im Zuge des Einbruches stahl Knecht ein Grasstück von der Oberfläche des Grabes, in dem sich Picasso – begraben im Mahagonisarg, von hohen Mauern umgeben – physisch aufgelöst hat. »Dann wahrhaftig steckt die Kunst in der Natur, wer sie heraus kann reißen, der hat sie…« (Albrecht Dürer in seiner Proportionslehre) »Down he goes, into the world of giants.« (T. J. Clark in Picasso and Truth)
(Sind da Picassos Atome im getrockneten, gerahmten und ausgestellten gestohlenen Gras und im kleinen, kriechenden Wurm, der für die Arbeit »ZEICHNUNG« mit dem Gras gefüttert und gefilmt wurde? In Sepia getaucht, zieht er dunkle, schmierige Linien über ein Blatt Papier. Ein Kommentar. Ein Kreislauf.)
»VERFORMUNG (Das Glückliche Objekt)« besteht aus einer skulptural verformten Leitplanke, die Knecht dem Alltag entnommen und von der Autobahn in den Ausstellungsraum überführt hat. Das Objekt – durch einen Unfall verformt, bei dem es Todesfälle verhindern konnte – hat seine Aufgabe erfüllt, seiner Bestimmung entsprochen und getan, wofür es geschaffen wurde: ein glückliches Objekt.
»ENTFERNUNG (Mast)« zeigt ein weiteres, hier politisch entwurzeltes Readymade: den von Knecht demontierten Fahnenmast der alten amerikanischen Botschaft in Berlin. Der ehemals aufragende Mast liegt einsam und verloren auf den Dielen des Ausstellungsraums. Das phallisch-machtvolle Hoheitszeichen wird auf den Boden der Tatsachen zurückgeholt. Der Flagge beraubt, wird der Mast zur Markierung, zur Linie, zur Grenze, zum Vektor im Raum. Der ›Bedeutungsträger‹ wird frei gelegt. Ein bloßes Ding. Ein stummes Zeichen.
Text: Lukas Töpfer