NOWs: Survival of the Fittest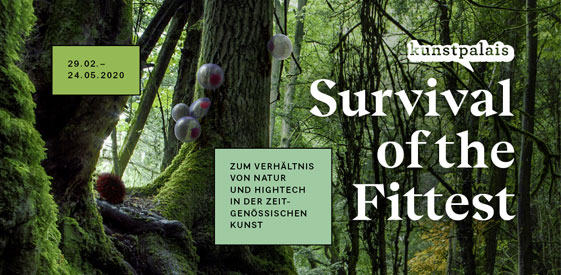 Im aktuellen Diskurs um die Zukunft der Menschheit wird zunehmend die Gefahr ins Zentrum gerückt, die von Umweltzerstörung und insbesondere den Folgen des Klimawandels für das Überleben unserer Spezies ausgeht. Globale politische Bewegungen gaben dem Thema im letzten Jahr eine neue Dringlichkeit. Sie fordern einen sofortigen ökologischen Paradigmenwechsel auf allen Ebenen der Gesellschaft. Die Rolle, die Technologie dabei spielen kann und sollte, wird kontrovers diskutiert.
Ob Künstliche Intelligenz, Blockchain-Technologie, Big Data oder Bioengineering – Optimist*innen preisen technologische Innovationen als Schlüssel zur Rettung unserer Umwelt, während Kritiker*innen diese Hoffnung als naiv bezeichnen und auf einen zunehmenden Mangel an Verständnis neuester Technologien zurückführen. In einer Flut von widersprüchlichen Informationen über den Zustand der Welt und angesichts des rasanten technologischen Fortschritts wird es zunehmend schwieriger, den Status Quo zu evaluieren. In eine Endzeitstimmung ähnlich der Zeit vor hundert Jahren mischen sich Gefühle von Aufbruch und Untergang, Euphorie und Ohnmacht, Dekadenz und Weltschmerz.
Die internationale Gruppenausstellung im Kunstpalais zeigt 10 künstlerische Positionen, die sich in unterschiedlichen Medien dem komplexen Verhältnis von Natur und Hightech nähern. In Fotografie, Computersimulation, Video, Plastik, Installation und Performance wird das diskursive Feld weit gesteckt. Von dekonstruktiv-kritischen Positionen über optimistische Zukunftsperspektiven bis hin zu phantastischen Visionen einer Wiederverzauberung der Natur wird der Frage nachgegangen, wie sich unser Verhältnis zur Umwelt in Zukunft gestalten lässt. Die Ausstellung begegnet der wachsenden Komplexität des Themas mit ungewöhnlichen und kreativen Perspektiven, die die Grenzen des Erwartbaren verschieben.
Teilnehmende Künstlerinnen und Künstler: Christina Agapakis (US) & Alexandra Daisy Ginsberg (UK) & Sissel Tolaas (NO), Tega Brain (AU) & Julian Oliver (NZ) & Bengt Sjölen (SE), James Bridle (UK), Simon Denny (NZ), Anna Dumitriu (UK) & Alex May (UK), Futurefarmers (International), Páll Ragnar Pálsson (IS) & Andreas Greiner (DE), Paul Seidler (DE) & Paul Kolling (DE) & Max Hampshire (UK), Jonas Staal (NL), Pinar Yoldas (TR)