NOWs: Ziggy goes wild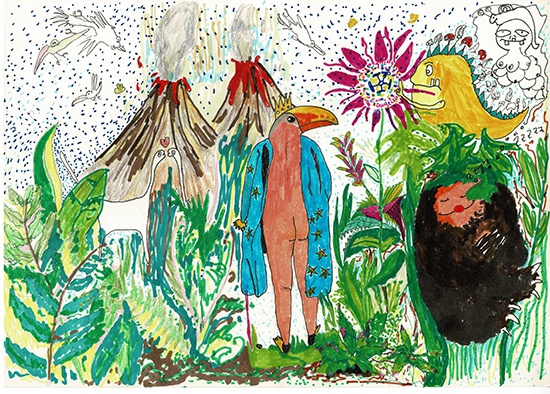 Ziggy goes wild
Einzelausstellung von Anne Duk Hee Jordan
Eröffnung
20. September, 19 h
Kunstverein Arnsberg
Königstraße 24 / Neumarkt
59821 Arnsberg
Nach Ziggy on the Land of Drunken Trees (Galerie Wedding, Berlin 2018) und Ziggy and the Starfish. How one becomes One with a Fish (Riga International Biennial of Contemporary Art 2018) kommt die Ausstellungstrilogie der Künstlerin Anne Duk Hee Jordan nun mit Ziggy goes wild im Kunstverein Arnsberg zu einem krönenden Abschluss.
Ziggy ist einer fiktiven Figur aus dem Werk David Bowies (Ziggy Stardust, 1972) entlehnt und verkörpert dort einen bisexuellen und promiskuitiven (Mars-?) Menschen, der mit apokalyptischen Gedanken über das Ende der Welt sinniert. Als Gegenstück zum Seestern (Starfish) steht der/die unsichtbar bleibende Ziggy bei Anne Duk Hee Jordan für Schönheit, Fremdartigkeit, Queerness und Exotik der Meeresbewohner, die angesichts des globalen Klimawandels diversen Mutationen und Veränderungen ihrer Sexualität unterliegen. In einem Rechercheprojekt mit der Kuratorin Pauline Doutreluingne realisierte die versierte Taucherin eine wandumspannende Multi-Media-Collage Changing Sex in Ecology (2016-2018). Jordan entwirft in ihrer dreiteiligen Filmgeschichte das Szenario eines post-anthropozentrischen Zeitalters, in dem der Mensch nicht mehr im Zentrum des Geschehens steht, statt dessen die Perspektive der (nicht nur) sie faszinierenden "Anderen" eingenommen wird. Sie wählt keine katastrophalen Bilder, sondern eine durchaus wundervolle, fantastisch und verspielt anmutende Ästhetik, die Betrachterinnen und Betrachter in ihren Bann zu ziehen vermag.
Im Kunstverein Arnsberg zeigt Anne Duk Hee Jordan Zeichnungen, mehrere Filme, darunter Staying with the trouble und skulpturale, kinetische Objekte wie Homo Stupidus Goethe Robot, eine fliegende Seegurke und einen monumentalen Seestern, die alle ein Eigenleben zu führen scheinen und den Ausstellungsraum für sich beanspruchen.
Erst kürzlich konzipierte sie ein skulpturales Bühnenbild für das Donna Haraway entlehnte Stück des Künstlers Carlos Manuel in Berlin, betitelt Unruhig bleiben/Staying with the trouble (2019), eine spekulative Fabel über die Verbindung zwischen Mensch und Monarchfalter. Den Film zeigt sie nun erstmals im Kunstverein. Die Feministin und Wissenschaftstheoretikerin Haraway beschwört in ihrem gleichnamigen Buch für das Leben nach dem Anthropozän neue Formen der Verwandtschaft. Weder Technikeuphorie noch apokalyptische Endzeitstimmung seien die Lösung, stattdessen haben wir nur eine Chance, wenn wir unruhig bleiben, alte Hierarchien und Wertvorstellungen hinterfragen und als sogenannte 'Symbionten' in der Zukunft weiterleben – Gedanken, die für das künstlerische Œuvre Jordans eine wichtige Rolle spielen. Dieses "Mit-Werden" mit anderen Spezies beschreibt Haraway als 'Sympoiesis' und richtet dabei den Blick auf die Bedrängten unseres Planeten, etwa die indigene Bevölkerung oder aussterbende Tierarten.
Kernstück der Ausstellung von Anne Duk Hee Jordan ist die raumgreifende Arbeit Into the Wild, eine soziale Food Sculpture, eine überbordende Tafel, die aus essbaren Kräutern, Wurzeln, verschiedenen Gemüsesorten und anderen, teils vergessenen Pflanzen besteht – umrahmt von einem klappernden Muschelchor (Clapping Clams, 2018). In einer konzeptuellen Performance werden die Besucherinnen und Besuchern diese miteinander verspeisen. Während der Laufzeit werden die Überreste zunehmend zerfallen, verrotten und schlussendlich kompostiert wieder als fruchtbarer Humus dem organischen Zyklus zugeführt. 'Human' stamme nicht von 'homo', sondern von 'Humus', so Haraway in ihrer ökologischen Ethik, die mit der Strategie des Kompostierens eine Verwertung bisherigen, gebrauchten Materials anspricht, das zersetzt ein neues 'Produkt' ergibt. Sind wir also letztendlich nichts weiter als Kompost, wie Haraway vermutet? "We are compost, not posthuman; we inhabit the humusities, not the humanities."
Diese und vergleichbare Fragen stellt Anne Duk Hee Jordan in ihrem vielfältigen Werk und regt damit zu einer Reflektion unseres Verhältnisses zur Umwelt und ihren unterschiedlichen Erdbewohnern an, die eine Trennung zwischen Natur und Kultur längst obsolet werden lassen.