Roadtrip Präsentation und Arbeitsgespräch mit Olafur Eliasson
Roadtrip Präsentation und Gespräche mit Olafur Eliasson, Eric Ellingsen und Christina Werner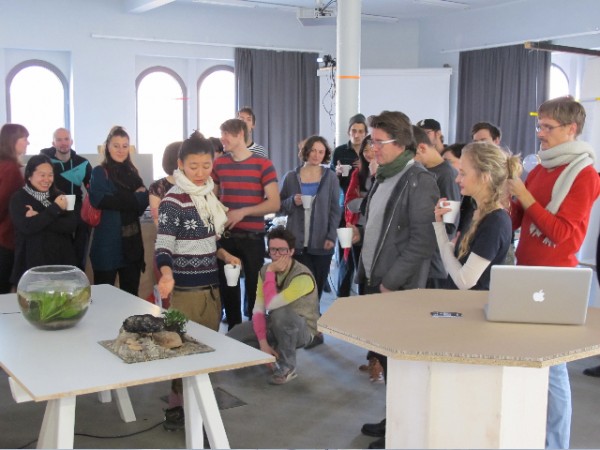 Bing Bang Road Trip:
Like the Big Bang, the group of participants explodes in all directions through and outside of Berlin. The road trips are intended to produce an experimental work of art creatively incorporating the constraints of travel, space, a limited budget, and a small fixed frame of time in a trajectory centered on Berlin.
The destination of the travel is the movement rather than a place. The speed of getting to a place is crucial. How the body moves; what moves the body. What you see, hear, smell, taste, feel as you travel, each sense stretched at different speeds.
How are space and time and body consciously engaged interior to a project rather than exterior to a work? Why decide to move one way rather than another? What is distance and how is distance measured, documented, recorded, and re-communicated? What instruments are used to record or narrate the trajectory? Can the body be incorporated in this instrument as an instrument of feelings and measure? How can constraints of distance, time, budget, and measure be used as a web of interrelationships to design an experiment? How is the making of the project done simultaneously with the documentation of the project? How can the structuring of a road trip be used to inform the structuring of an artistic experiment?
Examples of road trips, movements and measures are discussed before the trip starts, including texts and projects by Robert Smithson and Gordon Matta Clark, Wim Wenders' Kings of the Road, to Dennis Hoppers Easy Rider, Cynthia Beatt's Cycling the Frame and The Invisible Frame, Olafur Eliasson and Hans Ulrich Obrist road trip interviews, or readings from Georges Perec's The Street: Practical Exercise, among others.
After everyone returns, encounters and experiences are shared and discussed. Each participant presents how he or she measured, documented, recorded, and re-communicate their experiment, their trip, their work.