Studio Olafur Eliasson: The Kitchen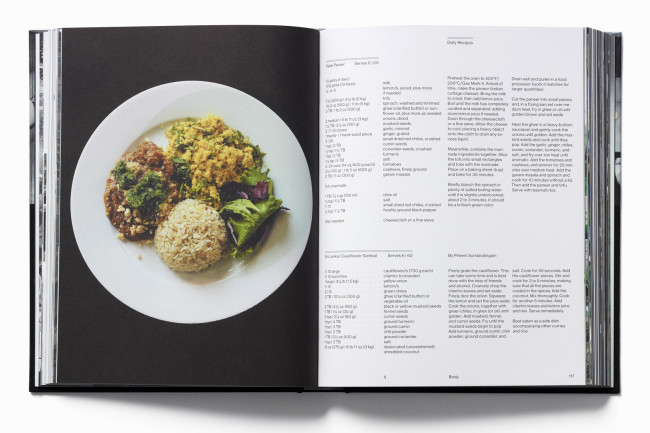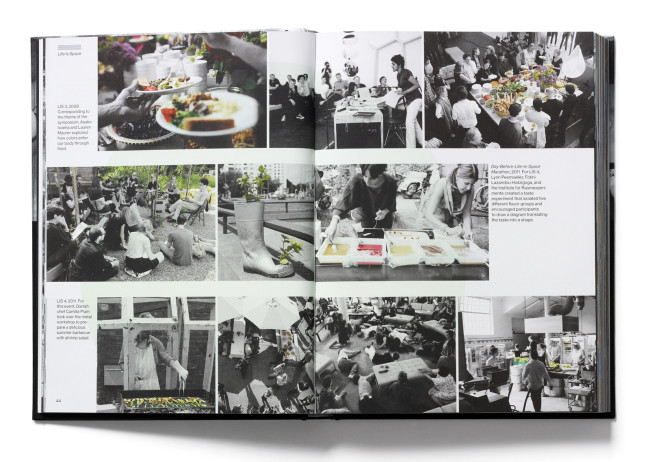 "When I eat, it is an experience that is extremely individual. But by eating together with others, I situate my experience within a space that is very much collective – the meal, the act of eating together, the shared conversation. (…) Just as I can never be entirely certain that the color I call blue is the same blue for everyone else on the planet, taste is relative. What we have in common is that we are different." Olafur Eliasson

Phaidon is publishing Studio Olafur Eliasson: The Kitchen in April 2016. The extended artist's book and cookbook that focuses on the studio's kitchen – its work, research, and experiments – is based on the studio publication TYT [Take Your Time], Vol. 5: The Kitchen. Since the work and food thinking of the kitchen team are closely connected with the projects, symposia, workshops, openings, and events at the studio as well as the Institut für Raumexperimente and the studio's project space Grey Sheep, the book is a portrait of the studio seen from the perspective of the kitchen. Along with over 100 vegetarian recipes, the book provides insight into the daily life of the studio with the kitchen at its heart, and documents a wide range of workshops, food experiments, and selected exhibitions.
We hope you recognize and remember many of the happings at the Institut für Raumexperimente, while reading and cooking from the pages.
Cooking is caring for others. It is a gesture of generosity and hospitality that functions as social glue; it amplifies social relations and translates thoughts into food, into giving and sharing.
Ausklappen…
by Olafur Eliasson.
Cooking is caring for others. It is a gesture of generosity and hospitality that functions as social glue; it amplifies social relations and translates thoughts into food, into giving and sharing. When we cook, we both use the world and produce it at the same time. And through eating, we take in the world, bringing light into our bodies. Take a piece of lettuce – it is essentially stored sunlight. Since the lettuce could not have grown without being exposed to the sun, you could say that it acts like a solar cell. By eating, we take in this energy.
The kitchen celebrates the connections between human beings, food, and the sun as a system of energy exchange, as an ecology of giving and taking, of sharing. It examines food through various lenses, from the microscopic to the macroscopic.
(…) The studio s kitchen started out, on a much smaller scale, around thirteen years ago. At that time, studio members would take turns cooking for the rest of the team, then a group of around fifteen people. In 2005, when it became impractical to wait until four in the afternoon for the chicken to be served, it was clear that someone was needed especially for the kitchen; that is when artist, food activist, and cook Asako Iwama was brought in to cook for the expanded team. She was joined half a year later by Lauren Maurer, and for many years, the two ran the kitchen with great empathy and dedication, bringing with them specialised knowledge concerning the many issues surrounding cooking and food.
(…) Over the years, the kitchen has also become a co-producer of many events: the studio-based Life Is Space symposia, where the shared meals and coffee breaks are as important as the diverse performances, experiments, and community thinking that take place there; the social gatherings that mark the openings of the irregular exhibitions at Grey Sheep, the studio project space housed next door; and, until recently, the various seminars and marathon workshops conceived by the team of the Institut für Raumexperimente (Institute for Spatial Experiments), which often included food experiments, performances, drifts through Berlin, and a host of other activities. I set up the institute, in association with the Berlin University of the Arts, in 2009 as an experiment in arts education and hosted it one floor above my studio. Co-directors Christina Werner, Eric Ellingsen, and I cultivated experimentation and uncertainty for five years, working with the institute's twenty-five participants to turn thoughts into action.
(…) This book is a portrait of the studio kitchen. Yet it is also a portrait of the complex organism that is my studio from the perspective of the kitchen. Initially we wanted to make a publication just for the friends of the studio, to simply toss succulent recipes into a book the way you toss salad. But when you cook, you may end up with a slightly different meal from the one outlined in the recipe, and so this book too has grown to incorporate the research, artistic projects, and food-thinking that take place in and around the studio kitchen. Since others may be as interested as we are in the interconnections between food, art-making, and daily life, we have now turned it into a book for a wider audience.
I hope it proves as much food for thought as it is satisfying to your hunger.
Cooking Up Breaking Down, School and Art and Metabolisms Multiple Digestive Tracks
The Institut für Raumexperimente is a big intricate digestive track that tries to choreograph in-feelings, a state of being inside of feeling, like feeling is a place
Ausklappen…
by Eric Ellingsen and Christina Werner
The Institut für Raumexperimente (Institute for Spatial Experiments) is a big intricate digestive track that tries to choreograph in-feelings, a state of being inside of feeling, like feeling is a place, has a shape, is habitable, like a garden or pavilion is habitable. 'In-feeling' is one way to translate the German Einfühlung, usually translated as empathy. In-feeling is a kind of stove in the body kitchen. It is a way of touching. In the school we plant the content together. We are kitchening. Things are cooking. One of the ways we do this is through food experiments. These experiments are coupled into workshops and larger teaching experiments the institute twists together, often in the format of three-day-long marathons centred around a specific theme. The institute is like a living colon, we brainstorm, we heartstorm, we break down what passes through us, we reconstitute a way of thinking from the content. The institute is a junum, a tongue, lots of tongues, a stomach, a metabolism. We have guts sometimes. Shit happens. Our favourite recipe in the institute is not to use recipes. We feel our way around. As scientist and biologist Donna Haraway says, we are companions. And the Latin root of companions, cum panis, means 'with bread'. We break bread together. We loaf around together. To be companions is not a passive thing. It is nourishing. Eating becomes us. Eating roots becomes us, even the Latin type. Breaking bread together has been a central core to growing the institute's content. Eating together is something meticulously choreographed to allow the unplanned to take place. The eating experiments are interior to the content of the teaching experiments. Content is seeded, not handed out like a preprocessed meal. The experiments are designed so that as they grow, branches which are not predesigned can design themselves. The informal can emerge. Breaking bread together helps the institute think about what we are serving each other in terms of learning, health, feelings, ideas, critique, art. Breaking bread helps us to experience something together and reflect on our different tastes from the same thing. It allows a sameness that scoops different. Over the years, the kitchen team has conducted and been involved in several food experiments in connection with a number of marathons. These collaborations between people, relationships, institutions, budgets, and timing are intersecting lines that curve into and across one another along the trajectory of the institute's and kitchen's everydayness. Some of these collaborations originate from the thinking seeds and needs of the institute, from workshops and people with whom the institute has some larger landscape moving through the school's curriculum and content. The meals that we make together around the kitchen are spirals then. The lines we are, are curves. And the spaces we make in overlapping are not static territories but spatial relationships which move students across Berlin to meet in an institute above an art studio above and below a kitchen. We heat these spaces by moving through them, a teaspoon of this, a cup of that, a lot of pinches meeting in a bowl.
On the way to and from the kitchen we bowl. We are literally walking through a studio practice that practises, a practice of different landscapes and projects, of works and makings, lamps, pavilions, lights, books, buildings, friendships, frustrations, and exhibitions. We collect these impressions together into a buffet of feelings and ideas; our rhythms and thoughts are buffeted by these kitchen and studio practices whether we are conscious of it or not. Another metabolism is at work in the work, another breaking things down, another adding up. To sit at lunch tables around these productions is to be set in the space of things present and on their way. To be on the way is a place of presence too then. All food is an on-the-way made up of ingredients, microbes, love, machinery, technique, tradition, things which are on their way to becoming us, on their way to becoming earth again. The molecule that started in the centre of a nebula beds down in our guts. How do we feel all these things as us while they are also on their way to not being us? How do we metabolise a space for ideas and differences and cares we have in common? How do we metabolise a precise artwork from a bowl of ideas for an art practice? How do we cook a precise teaching experiment from a field of growing ideas?
Perhaps learning is a process of what we might remember, and a healthy school, a garden that is aware of constantly being cultivated to re-member itself. We are history re-membering history, re-membering philosophy, re-membering artworks. We remember that art works. To remember anything is to break it apart. Not to deconstruct it necessarily, but it does require heat, a collision which breaks and forms bonds, a striking. Adding heat to anything causes spin, causes hot air to rise and cool to fall. This is a convection cycle, from ice caps melting in Iceland to water boiling in a pot on the stove. All cooking is a controlled and precise flow of energy and material cycling. Eating is this. Taking something inside, letting the touch become us. This is to have touch. This is ecology. This requires an ethics of eating. Of being companions. Some cycling is slow, like plants into coal, like a three-day marathon on space activism or curation; some cycling is quick like sunlight into leaves, like getting heated up by being egged on. A plant is a temporary meeting place between the dark earth and the light photon-bombarded sky. A school is the same. It is the space of sucking things up and holding onto things and letting things go at the same time. Even if we don't salivate at the thought of food, as recent research claims, we are mouth-watering, we egg each other on chicken.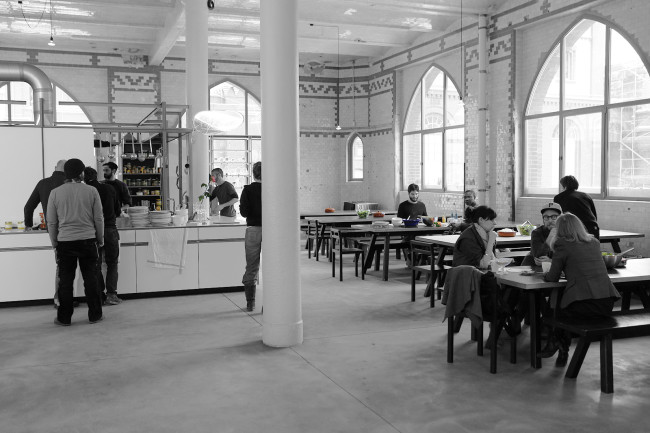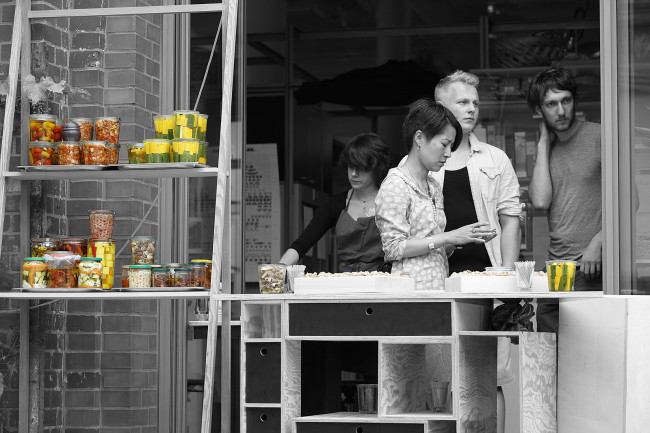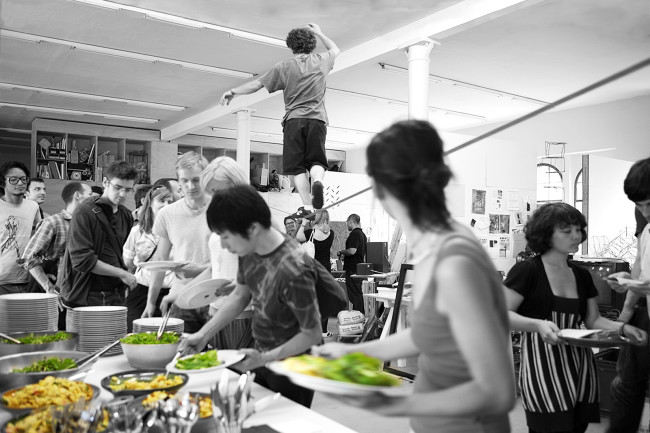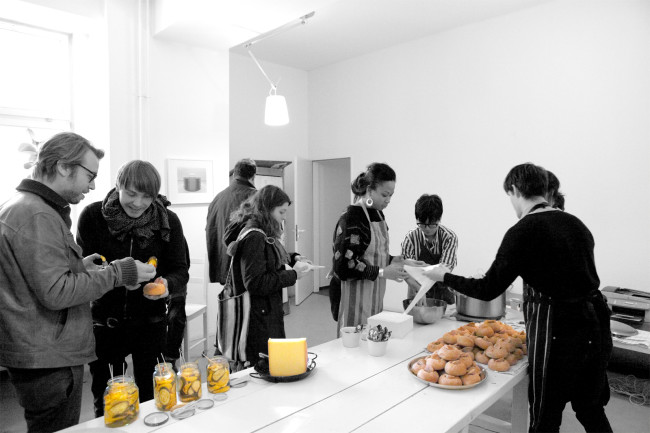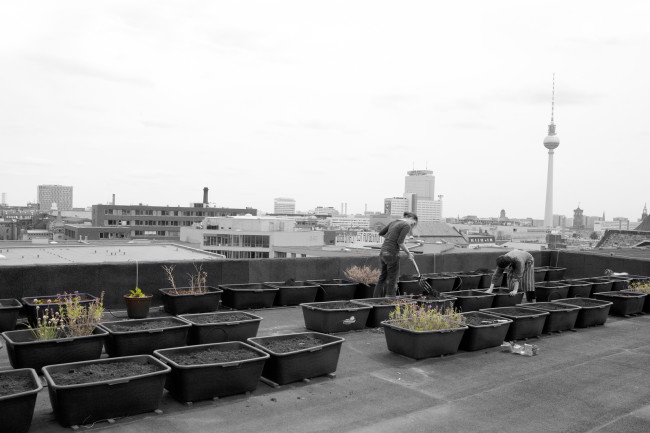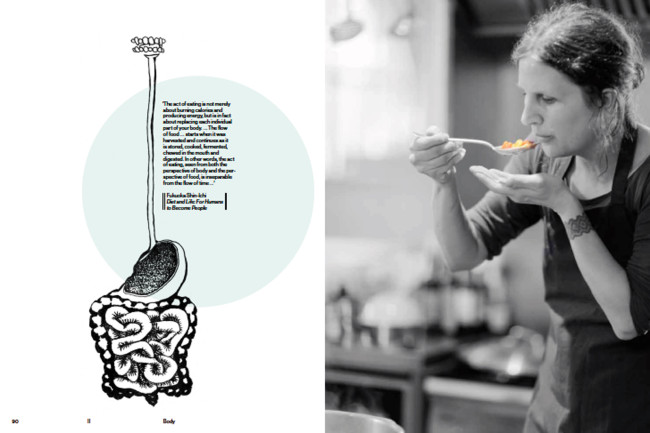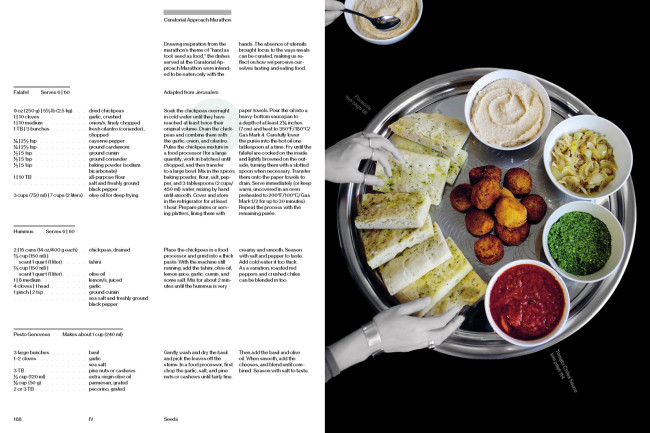 Studio Olafur Eliasson: The Kitchen
published by Phaidon on 25 April 2016
SPECIFICATIONS:
Format: Hardback
Size: 255 x 190 mm, 10 x 7 1/2 in
Pages: 368 pp
Illustrations: 500 colour illustrations
ISBN: 9780714871110
Price: 39,95 Euro