NOWs: PAM 2018 | PUBLIC ART MUNICH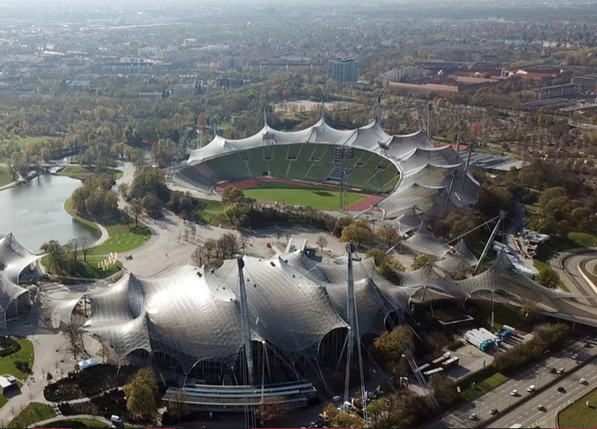 PUBLIC ART MUNICH 2018: Game Changers
Opening: April 30
Munich Olympic Stadium
PAM 2018 (Public Art Munich)will launch with a grand opening on April 30 at the Munich Olympic Stadium and presents twenty time-based, performative commissions staged every weekend in multiple locations around the city through the end of July.
PAM 2018 is curated by Joanna Warsza and commissioned by the City of Munich.
Commissioned artists
Lawrence Abu HamdanCana Bilir-Meier, Anders Eiebakke, Leon Eixenberger, Massimo Furlan, Mariam Ghani, Flaka Haliti & Markus Miessen, Rudolf Herz & Julia Wahren, Alexander Kluge, Michaela Melián, Ari Benjamin Meyers, Dan Perjovschi, Alexandra Pirici & Jonas Lund, Olaf Nicolai, The 9th Futurological Congress/Julieta Aranda & Mareike Dittmer, Franz Wanner, Aleksandra Wasilkowska
Game changers
PAM 2018 addresses the mechanisms of change and the fundamental shifts taking place today from the vantage point of Munich—a city that has experienced tremendous ideological, sociopolitical, and symbolic turns of events. The commissioned art projects span this complex history, from the Bavarian Soviet Republic, postwar denazification, Radio Free Europe, May 1968, the optimism and tolerance of the Olympic Stadium, 1989, to the welcoming of refugees at Munich's central station in 2015, to the impacts of digitalization, artificial intelligence, and the #MeToo movement. The question is not whether to take part but rather how to do so and on what terms. What should change and what shouldn't?
Opening week
On April 30, PAM 2018 commences at the Munich Olympic Stadium with Swiss performance artist Massimo Furlan's re-enactment of the legendary 1974 football match between East and West Germany that ended with a score 1:0. The game will be performed by only two participants, one as Sepp Maier and one as Jürgen Sparwasser. Two original radio commentaries will accompany the match, returning football—this time as art—to the Olympic arena.
The opening day also features Warsaw-based architect Aleksandra Wasilkowska's installation of a levitating ceiling entitled Gold for Natascha, Silver for Timofei. The exiled Russian hermit Timofei and his wife Natascha—both refugees in Munich after WWII—illegally constructed a joint Eastern Orthodox/Catholic church on the grounds of the future Olympic park. According to legend, it inspired the construction of the stadium's floating roof and changed its top-down planning.
On May 1, the program continues with live drawing sessions by Dan Perjovschi at the MaximiliansForum; the presentations of Jonas Lund's Facebook piece Hi Munich: This One is For You! with personalized messages that reach every city inhabitant and problematize the use of social media as a presumed public sphere; as well as the inauguration of the PAM Pavilion designed by Flaka Haliti and Markus Miessen and the discursive program curated by Gürsoy Doğtaş.
On May4–5, the opening week concludes with the 24h concert-installation Music from a Frontier Townby Michaela Melián at Munich Amerikahaus—the first such institution in postwar Germany.
PAM 2018 unfolds in time, each weekend presenting commissioned, time-based, performative projects along with an accompanying discursive program. PAM 2018 is less interested in art in public space as a physical location, but rather seeks to address broader concepts of publicity, public opinion, common good, or public speech. PAM 2018 is interested in economizing attention on behalf of public interest rather than for monetary gain. PAM 2018 valorizes art that aspires to change the game by recontextualizing our points of view and, as a result, our actions.
PAM 2018 Pre-events
March 15, 11am: Press Conference, Munich
March 16, 7:30pm: Talk with Jonas Lund, Joanna Warsza and other guests at Spike Berlin
March 20, 8pm: Kasper König in conversation with Joanna Warsza, Münchner Kammerspiele
Please subscribe to our newsletter at pam2018.de
—
Joanna Warsza, born in 1976 in Warsaw is a curator working in the public realm, rather than museums. She is the head of CuratorLab at Konstfack University in Stockholm and has curated, among others, the Georgian pavilion at the 55th Venice Biennale and the public program of Manifesta 10 in St. Petersburg. Recently she has edited: I Can't Work Like This: A Reader on Recent Boycotts and Contemporary Art (2017) and Empty Stages, Crowded Flats: Performativity as Curatorial Strategy (2017). Joanna Warsza lives and works in Berlin.
PAM, commissioned by the City of Munich, is Munich's biggest public art program. It was launched in 2013 with A Space Called Public / Hoffentlich Öffentlich, curated by Elmgreen & Dragset