NOWs: Display Distribute at Miss Read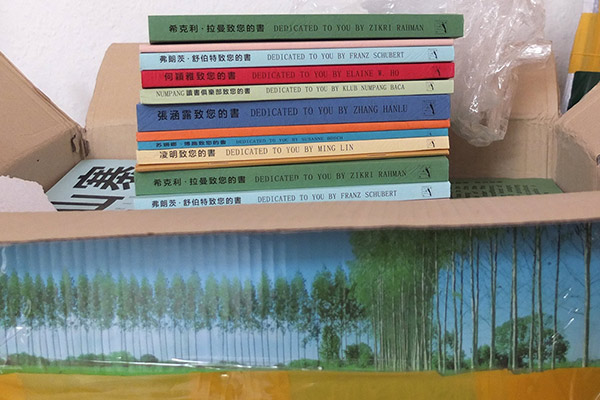 Display Distribute at
Miss Read Art Book Festival, Haus der Kulturen der Welt, 14-16 July 2017
Display Distribute is a thematic inquiry, exhibition space, distribution service and 'sometimes shop' based in Kowloon, Hong Kong. Woven together by a serially enlisted cast of agents, the project engages in a wider discussion of globally enabled and dismantled forms of exchange amidst a late-capitalist networked production. Among them, the distribution and production of independent publications acts as a loosely organised confluence—dialogue and exchange on critical, self-organised practices across Asia/SE Asia.
To facilitate small-scale distribution, transport of our books, zines and perodicals is carried out by LIGHT LOGISTICS, a person-to-person network enabled by the surplus carrying power of couriers engaging a mobile space for intimate and flexible forms of reading. For the duration of Miss Read Festival, a corporeal reading unit and mobile distribution node will present Display Distribute's "SECOND(hand)MOUNTAIN(fortress)" series of print-on-demand editions.
For this launch, publications have been specially dedicated to readers courtesy of practitioners such as ZHANG Hanlu, Jong PAIREZ, Susanne BOSCH, Franz SCHUBERT, KUNCI Cultural Studies Center, DANWARAREN, Renan LARU-AN, Elaine W. Ho, Ming LIN, Zikri RAHMAN, HomeShop, et al.
Display Distribute and LIGHT LOGISTICS have initiated a series of events and other experiments of reading and writing at various hosting institutions, including: BANK (Shanghai), Irregular Rhythm Asylum (Tokyo) and Gasworks (London).