NOWs: Q Berlin – The Berlin Conference on Freedom and Responsibility
Q Berlin
The Berlin Conference on Freedom and Responsibility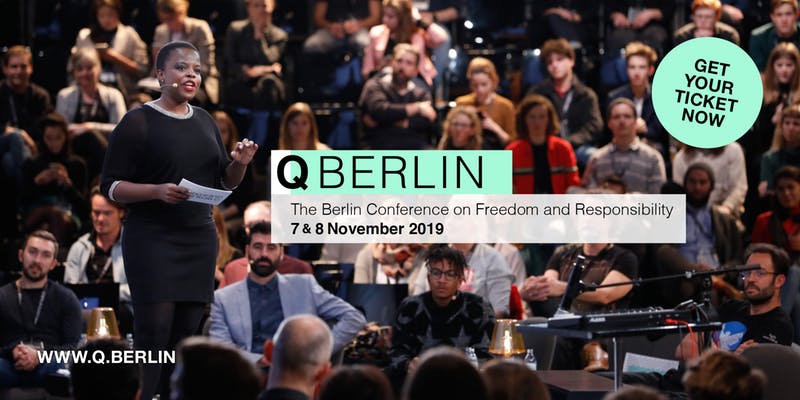 Date And Time
Thu, 7 Nov 2019, 09:00 –
Fri, 8 Nov 2019, 20:00 CET
Location
STATION Berlin (7 Nov), Halls 4 & 5
Luckenwalder Straße 4-6
10963 Berlin
Berlin stands for freedom, courage and tolerance. We believe our dynamic city should act as a strong voice in tackling the most pressing issues of our time – revitalising our social values, and welcoming people from far and wide. Q BERLIN provides a space to share these global perspectives, disrupt, inspire, and tear down walls to shape the future we want to live in.
Q BERLIN invites you to hear and share perspectives on today's most pressing issues. Spend a day full of inspirational talks, interviews and Q&A-sessions from and with international guests on the driving topics Civil Responsibility, Urban Life, New Work and Human Technologies.
In an increasingly globalised world: What values need to be renegotiated? What are opportunities and risks through artificial intelligence? What impact could life-long learning, basic income and volunteer work have on society? Sustainability and city planning for the future: What are the key factors?
Over the span of two days, Q BERLIN engages in an open dialogue on social values and the roles each of us plays shaping the future we want to live in.
DAY 1 Q CONFERENCE
STATION Berlin | 7 NOV 2019
Experts and unconventional minds share their perspectives on the fundamental questions driving Berlin, Europe and our contemporary world forward.
DAY 2 Q IMMERSIONS
MULTIPLE LOCATIONS | 8 NOV 2019Deep Dive into the conference topics. Select spaces, institutions and businesses where today's fundamental questions are being negotiated open their doors.
Bundesministerium für Arbeit und Soziales
The Future of Work – will automation and AI make for a jobless future?
re:publica Berlin
ASAP ("As Soon As Possible") – transferring the immediacy of the digital to culture
Smart City | DB
Mobile working environments – How co-working at railway stations can improve our working lives
Infarm
Urban Farming – sustainable solutions for our growing cities
More info here