Archives Works Marathon
As practiced memory. As practicing stories. As historying. As something technologically or corporally mediated. As something political and socially touching the world. As tool or weapon (as you decide), a responsibility, something critically filtered, shaped, opened rather than closed, generative rather than entombed. In the future more than the past. Maybe a now-memory, as Henri Bergson says.
The three-day Archives Works Marathon is a dense vortex of energy and ideas materializing around the practice of archives, producing content and showing case studies and tools that art engages through means of archival practices and education methodologies. It assembles artists, historians, curators, theoreticians, urban planners, educators, e.a. to present and participate in talks, performances, and experiments followed by questions and discussion panels. The former marathons gathered swarming matrices of peers and practitioners, provoking relationships connected to the Institute as practices in teaching and learning with the understanding that art and art education can and do change reality. These marathons are teaching experiments. They are occasions for co-producing knowledge by doing our thinking together. Archives Works because archives work. Archives are works. Archives must work. Must be worked. Archives must be practiced. The marathon will be a proof of concept for how different archival practices grow and evolve.
A 'proof of concept' is an idea acted to prove its feasibility. It is theory practiced. This is a proof of a concept, which works and keeps working. Archives Works, in addition to being a methodological experiment in teaching doing, is also the next step in the project Acting Archives, which is being enacted as a collaboration between the Institut für Raumexperimente, the Alle School of Fine Art And Design at the University of Addis Ababa and other artist groups and institutions in Addis Ababa.
Contributions include presentations, discussions, a curated exhibition titled Archives Acting, works, and film screenings. Contributors include Aeaeaeae, Hans-Henning Korb, Robert Lippok, and Raul Walch; Berhanu Ashagrie Deribew; Jochen Becker; Beatrice von Bismarck; AA Bronson; Olafur Eliasson; Eric Ellingsen; Fasil Giorghis; Elizabeth Giorgis; Tue Greenfort; Clara Jo; Mihret Kebede; Koyo Kouoh; Cynthia Kros; Jonathan Ledgard; Armin Linke; Robert Lippok; Bekele Mekonnen; Salem Mekuria; Felix Melia; Doreen Mende; Natasha Mendonca; Netsa Art Village; Emeka Ogboh; Elvira Dyangani Ose, Pere Ortín, and Vic Pereiró; Georges Pfruender; Olga Robayo; Aykan Safoglu; Bernd Scherer; Stefanie Schulte Strathaus; Daniela Seel, Rike Scheffler, Ernesto Estrella, and Sis Matthé; Nicola Setari; Diana Sprenger; Kat Válastur; Ai Weiwei; Christina Werner; Louwrien Wijers; and Euan Williams.
Recipes and menu and thoughts by Tainá Guedes, Asako Iwama, Lauren Maurer, and Lynn Peemoeller. Menu, designed by Thomas Meyer: (PDF)
Archives Works Marathon, Visual Notes by Georges Pfruender

Acting Archives is a project by the Institut für Raumexperimente, Berlin University of the Arts and the Alle School of Fine Arts and Design, Addis Ababa University, supported by Studio Olafur Eliasson, and funded by the TURN Fund of the German Federal Cultural Foundation.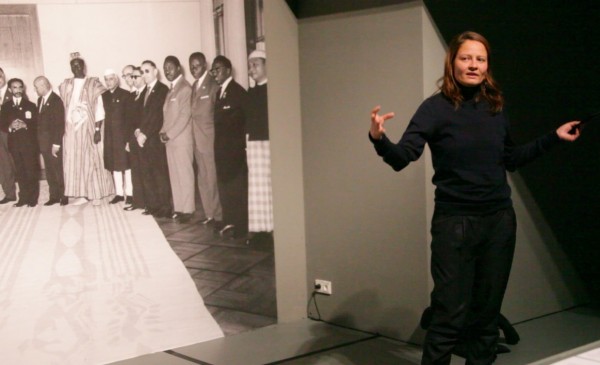 Archives Works Marathon, Day 1
Contributions bySalem Mekuria, Doreen Mende, Aykan Safoǧlu, Bernd Scherer, Stefanie Schulte Strathaus Bus Tour / Visit of Berlin-based InstitutionsHouse of World Cultures: After Year Zero. Geographies of Collaboration since 1945. Introduction by Bernd Scherer. Conversation with Doreen Mende on the project "Travelling Communiqué. Reading a Photo Archive (1948-1980)" Arsenal - Institute for Film and Video Art: Conversation with Stefanie Schulte Strathaus on the projects "Living Archive" & "Visionary Archive" Film ScreeningAykan Safoǧlu: Off-White Tulips, 2013 Salem Mekuria: Ye Wonz Maibel: Deluge, 1996/97 mit Beiträgen vonSalem Mekuria, Doreen Mende, Aykan Safoǧlu, Bernd Scherer, Stefanie Schulte Strathaus Bus Tour / Besuch Berliner InstitutionenHaus der Kulturen der Welt: After Year Zero. Geografien der Kollaboration seit 1945. Einführung von Bernd Scherer. Gespräch mit Doreen Mende über das Projekt "Travelling Communiqué. Reading a Photo Archive (1948-1980)" Arsenal - Institut für Film und Videokunst: Gespräch mit Stefanie Schulte Strathaus über die Projekte "Living Archive" und "Visionary Archive" Film ScreeningAykan Safoǧlu: Off-White Tulips, 2013 Salem Mekuria: Ye Wonz Maibel: Deluge, 1996/97