Aykan Safoǧlu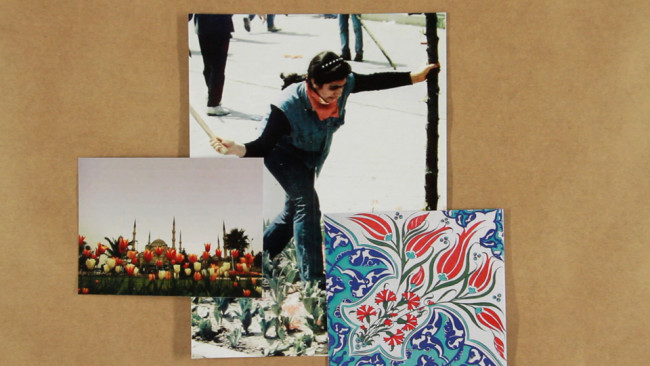 Aykan Safoǧlu
Off-White Tulips, 2013

Off-White Tulips is a tribute to the US-American writer James Baldwin. In this dense video essay, the artist links Baldwin's self-imposed exile in Turkey with his own biographical details and an exploration of his native country. With the help of old photographs, we follow the path through Istanbul equally of James Baldwin as much as of Aykan Safoǧlu and his family. The emphasis on both personal stories quickly begins to blur fact and fiction. Safoǧlu calls this form biomythography – a type of invented life story coined by the American writer and activist Audre Lord, who described herself as a 'black lesbian feminist mother warrior poet'. Off-White Tulips looks at history from marginal perspectives in order to explore alternative interpretations of cultural artefacts and differences, queer politics and identity. It is concerned with black survival strategies in a white mainstream. The film was awarded the Oberhausen Grand Prize at the Short Film Festival in Oberhausen in 2013.
Aykan Safoğlu is an artist and short film maker
Expand…
Aykan Safoğlu is an artist and short film maker based in Berlin. After graduating from Istanbul Bilgi University, where he studied film, he completed his master′s degree in "Art in Context" at the University of the Arts Berlin in 2010. He also completed his MFA in Photography at Bard College in New York in 2013. Since 2005, Safoğlu has made several short films, published articles and reviews in various magazines. He has participated in many group exhibitions and curated them. In 2013, he received the Grand Prize of the City of Oberhausen in the 59th international Short Film Festival Oberhausen for his short film "Kırık Beyaz Laleler / Off-White Tulips." Safoğlu was awarded a 2014 residency at the Rijksakademie van beeldende kunsten in Amsterdam. He is a member of the curatorial collective "ğ" (soft g).