Guangzhou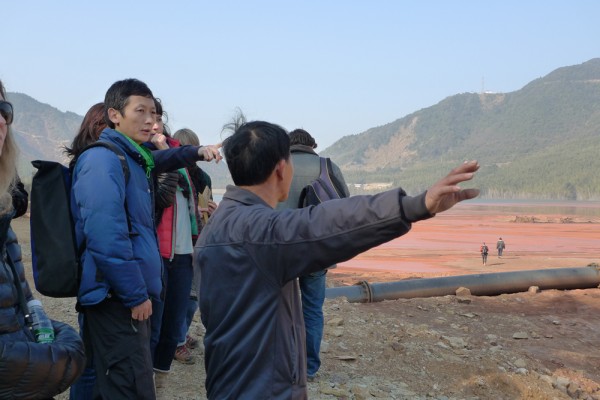 Monday, 13/01/14
9:00: departure from hotel
13:00: stop in Chang'An, Dongguan (post industrial economic zone town), meet artist Li Jinghu
14:30: visit police station residency / studio visit and artist talk with Li Jinghu, walk around old city and see new development area
19:00: arrive in Guangzhou
20:00: dinner near hotel
21:00: guided walk to Vitamin Creative Space through urban village area with Hu Fang; introduction and welcome by Hu Fang and Zhang Wei in the space, planning meeting on exhibition/actions/performances

Tuesday, 14/01/14
7:30: leave hotel with bus
day trip to local villages/rural area of Shaoguan with Hu Fang & team
22:30: check-in meeting with Olafur at hotel lobby

Wednesday, 15/01/14
9:00-13:00: work and prepare in city and at Vitamin Creative Space for the exhibition
13:00-21.00: new site of Vitamin Creative Space: site visit and garden, talk with Olafur, Hu Fang & Zhang Wei; walk to the village, visit village house, joint dinner in the courtyard

Thursday, 16/01/14
all day: work and prepare in city and Vitamin Creative Space
14:00: work crits and feedback with Olafur, Hu Fang & teams for exhibition
Friday, 17/01/14
until 17:00: work and prepare for "Walk-In-Progress" (call it: exhibition/performance/talks/gatherings/get-together/cook out/etc.)
17:00: Opening: Walk-In-Progress / Silent Walk
A silent walk across downtown Guangzhou, spreading between the Xingang Middle Road, Chigang Market and Vitamin Creative Space features time-based works and interventions. The walk culminates on a roof top terrace with a celebration. Followed by a gathering at Vitamin Creative Space, common dumplings cooking, drinks, actions and performances.
View Walk-In-Progress exhibition website
Excursion organised by: Christina Werner, Eric Ellingsen, Elaine W. Ho, Fotini Lazaridou-Hatzigoga
Special thanks to: Hu Fang & Zhang Wei, Lu Jia, Yan Chuan, Heli, Yung Zoiee, Tang Shan, Shen Zudi and her family, Oorun Run, Caroline Eggel