Radio interview at AFRO FM 105.3, Addis Ababa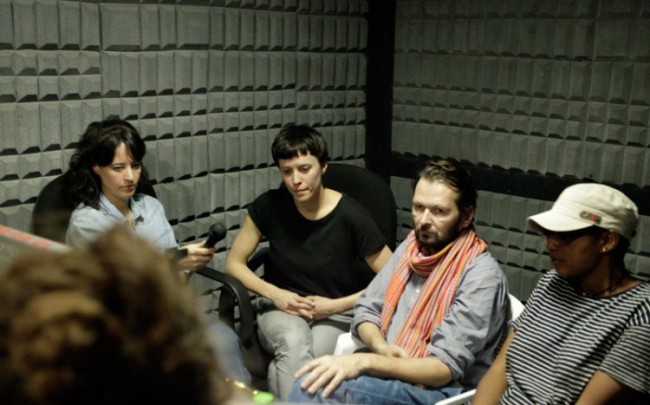 Justified Nature – a radio program hosted by Erica Licht in Addis Ababa on AFRO FM 105.3
Interview with Erica Licht and Clara Jo, Mihret Kebede, Robert Lippok, Rike Scheffler and Christina Werner
Conversation on Poetry Jazz and A-B-A-B-A : from here to hear, the third experimental get-together of poets, musicians and translators based in Addis Ababa and in Berlin, who join in this exercise of styles. Testing new structures and methods in a dialogue, the workshop sets out to explore oral traditions in Amharic poetry culture, translations and interpretations between German, English and Amharic, and performative elements on stage, including music traditions from traditional Ethiopian music, jazz elements and contemporary electronic music. The concert takes place at the Alliance Ethio-Française d'Addis-Abeba on 27.2.2015, 20h.
Participating artist: Clara Jo (artist, Berlin), Mihret Kebede (poet, Addis Abeba), Erica Licht (poet, Addis Ababa), Robert Lippok (musician, Berlin), Bekele Mekonnen (poet, Addis Ababa), Nebiy Mekonnen (poet/translator, Addis Ababa), Abebaw Melaku (poet, Addis Abeba), Rike Scheffler (poet, Berlin), Misrak Terefe (poet, Addis Abeba), Moseb Traditional Music Band (Addis Ababa), and Christina Werner (Berlin).
—
Eine Veranstaltung, choreographiert von Mihret Kebede and Christina Werner, im Rahmen von Acting Archives, einem Projekt des Instituts für Raumexperimente der Universität der Künste Berlin und der Alle School of Fine Arts and Design, Addis Ababa University, unterstützt durch Studio Olafur Eliasson, gefördert im Fonds TURN der Kulturstiftung des Bundes.