Poetry Jazz: Wax and Gold at Akademie der Künste Berlin
"Poetry Jazz" is the name for a particular style of performance poetry in Ethiopia fusing poetry and jazz, recitation and improvisation. The film A-B-A-B-A : from here to hear presents the eponymous experimental project series with artists from Berlin and Addis Abeba. Working together, they have created contemporary expressive styles in this tradition: Amharic, German and English poetry is combined with traditional Ethiopian music, jazz beats and contemporary electronic music. The film by Clara Jo follows the participating artists and traces their various influences as well as the challenges of reacting with the "Wax and Gold" principle of the spoken word to the issue of the free expression of opinion.
A-B-A-B-A : from hear to here is part of Acting Archives, a project by the Institut für Raumexperimente, Berlin University of the Arts and the Alle School of Fine Arts and Design, Addis Ababa University, supported by Studio Olafur Eliasson, and funded by the TURN Fund of the German Federal Cultural Foundation.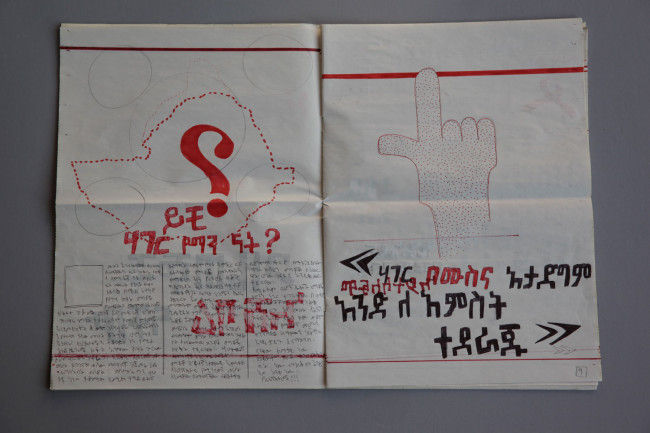 Read the following article 'Wax and Gold'. Poetry, jazz and politics, from Addis Ababa to Berlin by Mylène Palluel in Manifesto 21.
The film is followed by an experimental poetry performance by Rike Scheffler and Robel Temesgen. Exhibition artist Robel Temesgen (Visual Arts Fellow, Junge Akademie 2016) will present a series of works titled Old News that deploy the "Wax and Gold" approach in the field of visual arts. The "Wax and Gold" approach, which will be the topic of the discussion with Robel Temesgen, Rike Scheffler, Clara Jo and Christina Werner (Co-director, Instituts für Raumexperimente e.V.). Moderation: Olafur Eliasson.