NOWs: A Handful of Dust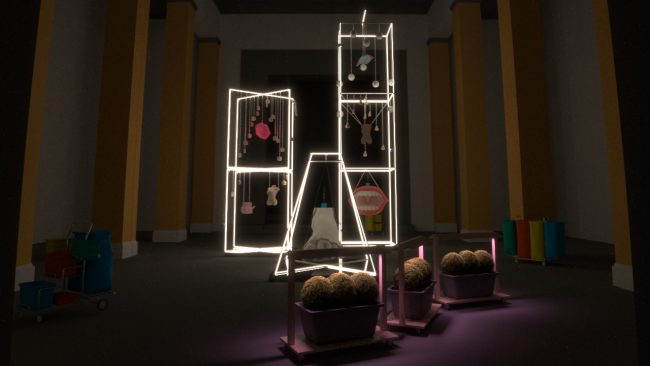 A HANDFUL OF DUST
Ehrenhalle Lilienthalstrasse Neukölln
Lilienthalstraße Cemetery, Lilienthalstraße 7, 10965 Berlin
CURATED BY
Pauline Doutreluingne & Petra Poelzl
ARTISTS
Anne Duk Hee Jordan & Viron Erol Vert
CONTRIBUTIONS BY
Mika Hayashi Ebbesen, Sara Neidorf, Mmakgosi Kgabi, Nathalie Mba Bikoro, Ariel Efraim Ashbel, Cymin Samawatie, Korhan Erel, Ralf Schwarz, Lena Ditte Nissen, Sandra Franz and Dr. Anna Zakrisson
www.ahandfulofdust.com
Departing from the so-called "Ehrenhalle" (Hall of Honour), built between 1938 and 1941 as a "Temple of the Fatherland" at the site of the Lilienthalstraße cemetery in Berlin-Neukölln, A Handful of Dust deals with the topic of fear within historical socio-political contexts. The generation of social fear has always been a reliable tool in the process of gaining power and occupies the core of the National Socialist structures and colonial history. Recently, the creation of the concept of the enemy is used to fuel fear, which serves to build up and expand political and social power structures. For instead of a constructive and strategic approach to issues such as climate change, migration and technological upheaval, populism and emotionalization are fanning the flames of insecurity in broad sections of society and thus nurturing the ground for fear to ripen and flourish.
A Handful of Dust understands itself as a questioning of black-and-white juxtapositions and seeks ways of thinking and acting outside of these extremes in order to make visible the complexity of historiography. The project aims to counter the advancing polarization and social division through a collective search for nuance, variation and lyricism.
Together with the artists Anne Duk Hee Jordan and Viron Erol Vert, the curators Pauline Doutreluingne and Petra Poelzl have developed an artistic, performative and discursive space of experience, searching for strategies for deconstructing hegemonic systems of thought and making multiform, norm-converting imaginations and narratives visible, audible, and tangible.
In addition to a collaboratively developed artistic installation by Anne Duk Hee Jordan and Viron Erol Vert in the Ehrenhalle in the center of the cemetery site, the area surrounding the hall will also be used for four weekends (04.09.2020 – 27.09.2020) through sound, discursive and performative formats. The curators, artists, performers, scientists and musicians will consciously enter this "foreign body", a historically occupied non-art space, and aim to open up pluralistic spaces of thought through a reflective examination on the embodiment of fear.
PROGRAM
DURATION OF THE EXHIBITION | 04.09. – 27.09.2020
OPENING HOURS EXHIBITION | Fri, Sat, Sun | 1 – 7 pm
Location Lilienthalstraße Cemetery
Lilienthalstraße 7 | 10965 Berlin
FRIDAY | 04.09.2020 | 3 – 9 pm
OPENING & SONIC MANIFESTATION
7 pm | Mika Hayashi Ebbesen and Sara Neidorf
SATURDAY | 05.09.2020
PERFORMANCE
1 – 8 pm | Durational Performance by Nathalie Mba Bikoro
SATURDAY | 12.09.2020
PERFORMATIVE WALK
5 pm | Performative Walk | Lena Ditte Nissen & Sandra Franz
SATURDAY | 19.09.2020
SONIC MANIFESTATION & PERFORMATIVE WALK
5.00 pm | Sonic Manifestation | Mika Hayashi Ebbesen and Sara Neidorf
6.00 pm | Performative Walk | Ariel Efraim Ashbel
SATURDAY | 26.09.2020
LECTURE
5 pm | Lecture | Dr. Anna Zakrisson
SUNDAY, 27.09.2020
SOUND IMPROVISATION | FINISSAGE
5 pm | Concert
Cymin Samawatie, Korhan Erel & Ralf Schwarz