NOWs: Hybrid Modus at Skulptur Bredelar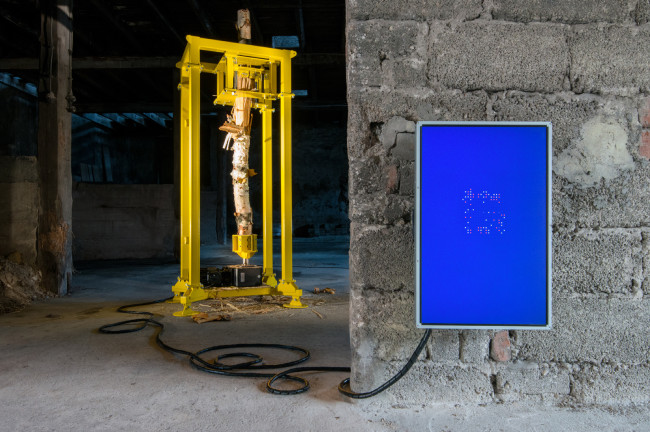 Hybrid Modus documents how traditional concepts of sculpture are being challenged and expanded to their outer boundaries, and how sculpture merges into other disciplines. New, contemporary definitions are questioned, adapted and proved.
Hybrid Modus is a group show that brings together artists, who's works deal with the paradigm shift that has taken place on the level of ecological, societal and technological issues, leading to a post-human environment. The exhibition addresses the issue of a man-made, hybrid ecology where nature, culture, capital, and the circulation of information coexist and overlap within the web of life. It may be related to our physical space, natural or urban surroundings, to virtual worlds. How do we deal with and live in these different realities? From the perspective of the human environment being in such a state of flux, the exhibition focuses on the significance of sculpture in the context of today's networked society. How does the sometimes seemingly anachronistic, traditional medium address this current development?
Artists: Lara Almarcegui, Isabelle Andriessen, Julian Charrière, Andreas Greiner, Spiros Hadjidjanos, Martijn Hendriks, Markus Hoffmann, Rachel de Joode, Sculptress Of Sound, Stian Korntved Ruud & AE, Philip Topolovac, Mirko Tschauner, Alvaro Urbano, Benjamin Verhoeven, Raul Walch, Dan Walwin.
Hybrid Modus is the 2016 edition of Skulptur Bredelar, and is curated by Bas Hendrikx and Ursula Ströbele.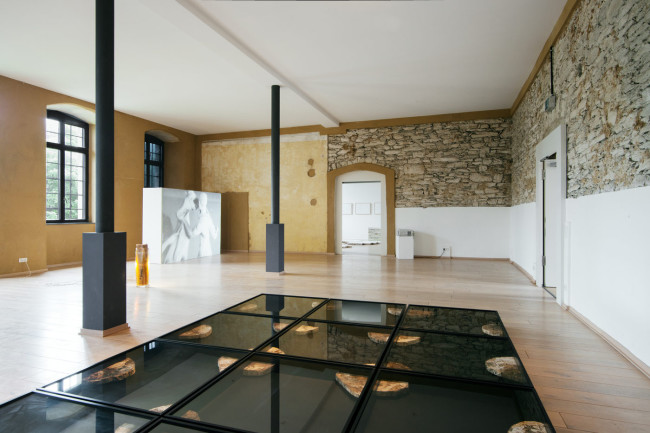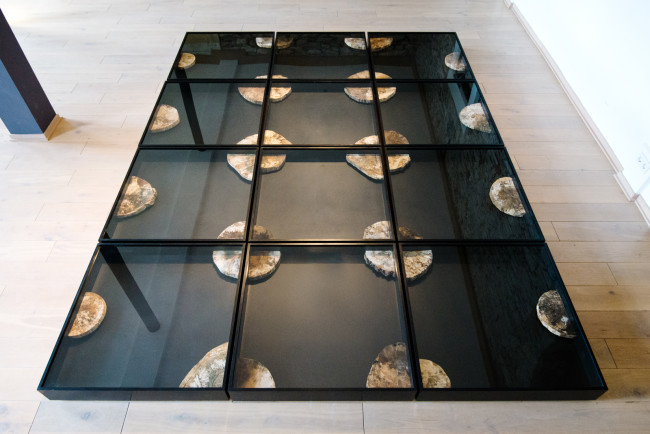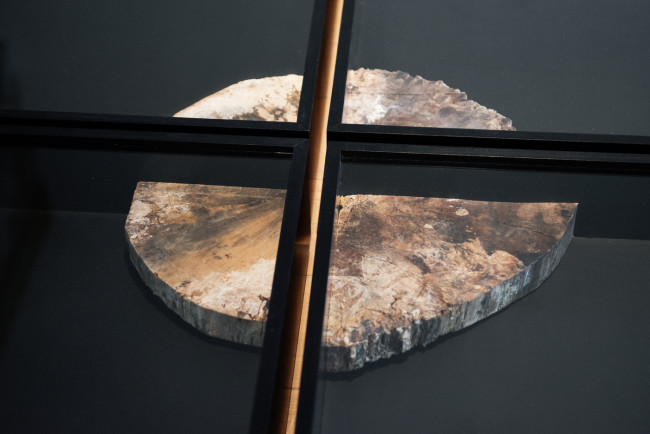 Markus Hoffmann: As a tribute to the wealth of natural patterns and systems, Memory consists of twelve glass-topped cabinets, each containing segmented discs of trees taken from all over the world. These specimens were artificially exposed to the growth of fungi for a certain period of time, before the discs were fossilised in their containers. Resulting in a fossil mosaic, Memory is an archived global forest for generations to come.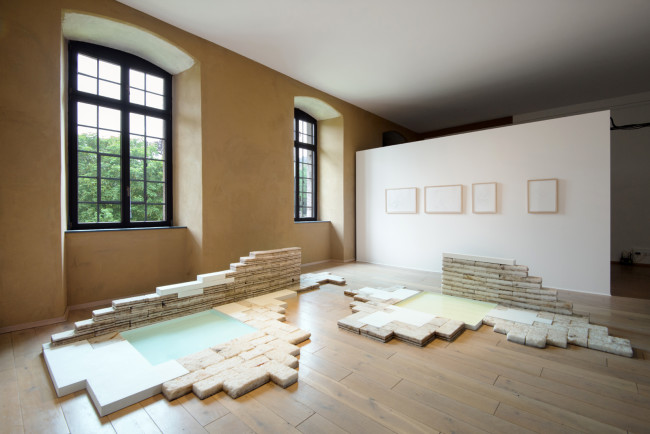 Julian Charrière: Future Fossil Spaces is a space-consuming sculpture made from blocks of salt, complementary plaster elements and enamelled basins filled with a lithium-rich saline solution, the materials reference where they are from, the South American "lithium triangle" (Argentina, Bolivia, Chile). The one hundred million year-old salt is mined there in order to process it for producing lithium salt solutions used in the rechargeable batteries of our digitised world. Past and present collide in the geological time required to make the salt and its modern use.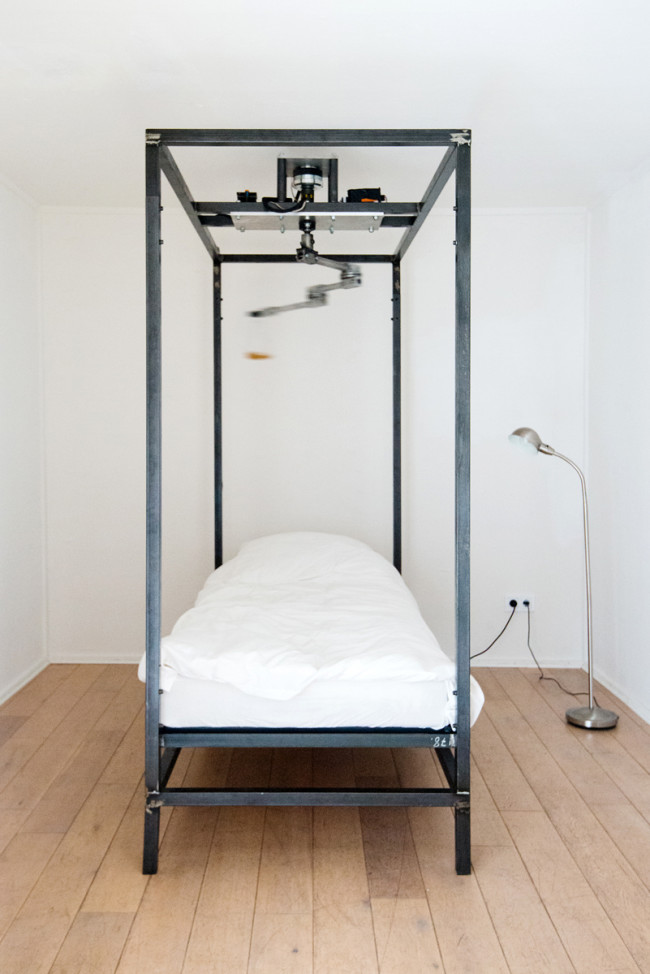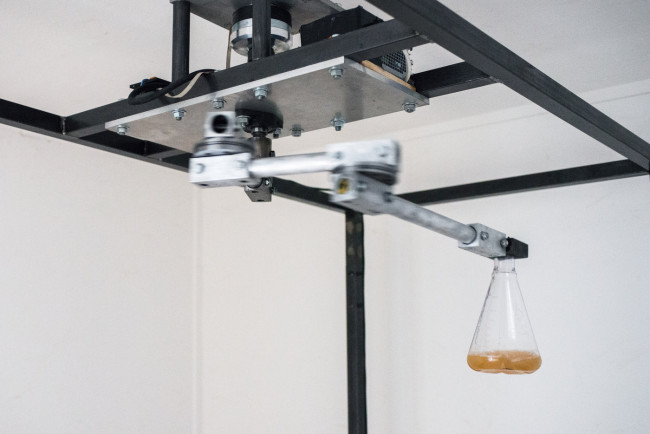 Andreas Greiner: A pendulum on a canopy bed is in random motion and transfers this movement to a conical flask containing bioluminescent bacteria suspended in seawater, which react by glowing. In the wild, these bacteria live symbiotically within the organs on the underbellies of night-hunting squid which use this disguise to convince their prey that they are a part of the night sky glimmering above them.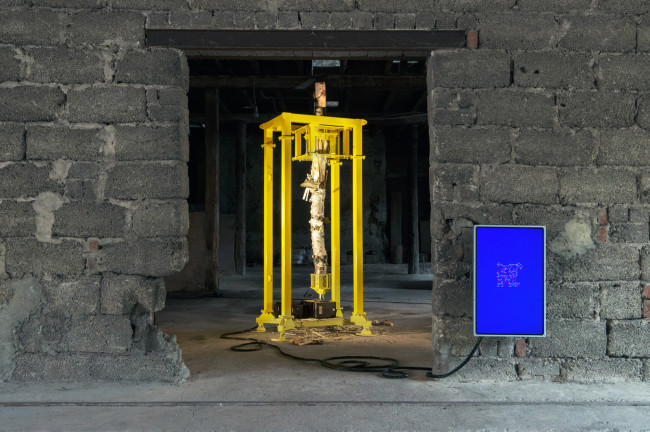 Stian Korntved Ruud & AE: Visually referencing deep-sea data infrastructures, Ludological is a device in which algorithms compete with each other. Hyper-optimization and advanced efficiency protocols in industry 4.0 have led to a detachment of ecology and its actors. Ludological subjects a tree trunk to the outcomes of a game between two scripts. The tree is distorted with each gain or loss of its host, ultimately and inevitably leading to its destruction.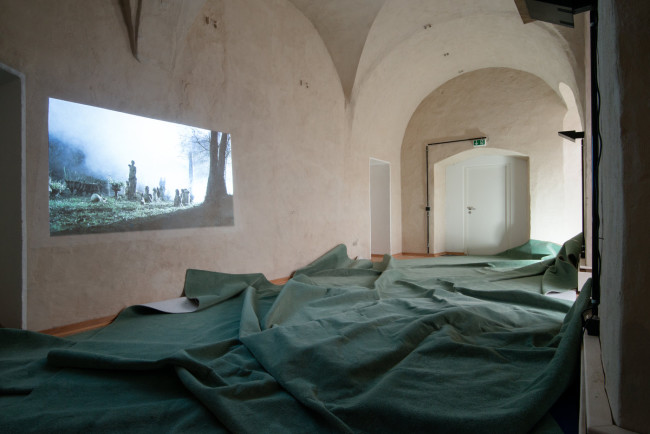 Alvaro Urbano: The short, The Ghost & The Host was filmed on location in the garden of the Villa Romana in Florence. The fictive story unfolds in the traces of this historic garden's past, its sculptural decor and its inconspicuous inhabitants (insects, fish, and cats) which awaken to life in the mysterious moonlight. Even the statues move ghost-like through the plumes of fog and explore the place. Is it an animistic dream, or a reference to post-humanism, or a glimpse into a surrealist fantasy world?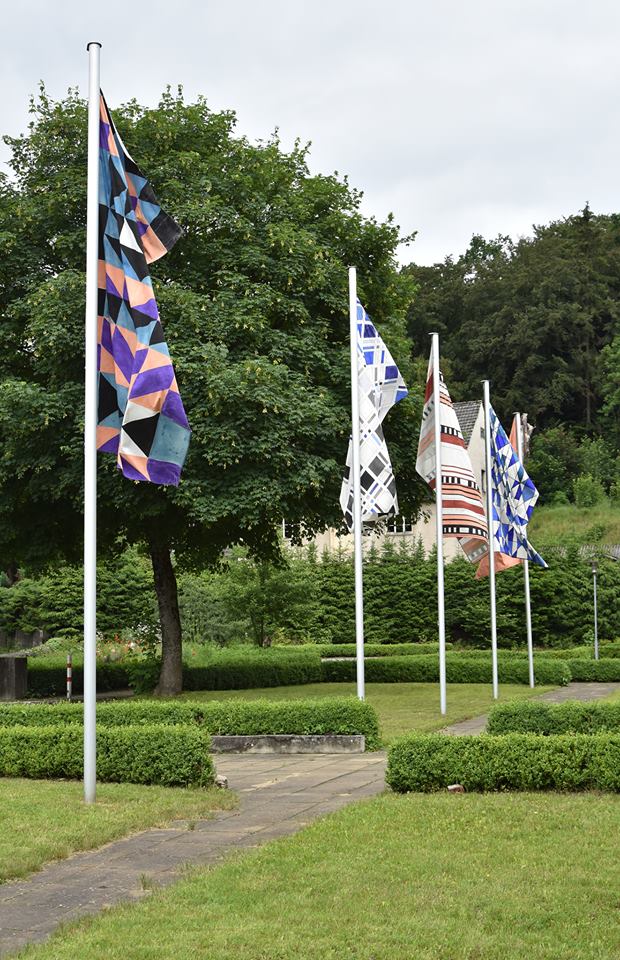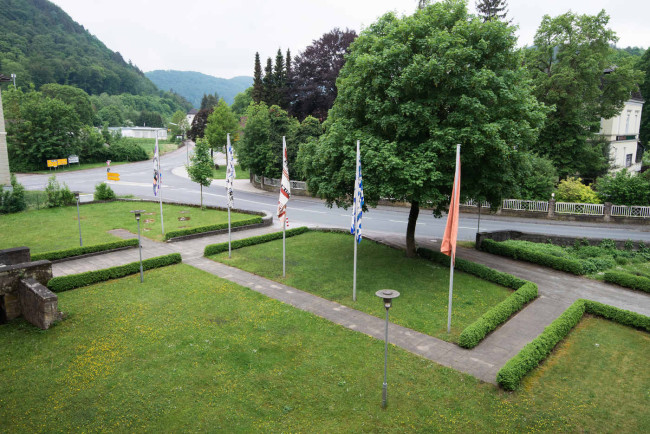 Raul Walch: Five flags, moving in the wind in front of the former monastery, show abstract color patterns, that are neither related to a certain group nor territory, but instead, they represent brush strokes: a hybrid of painting on canvas or a sculpture, similar to the fluttering clothes on a line that Man Ray called Sculpture mouvante in the 1920s? Exposed to the elements, the surface changes thoughout the exhibition.
–
Photos: Sander van Wettum; copyright and courtesy of the artists and Skulptur Bredelar