NOWs: Hypochondria Heart by Nina Schuiki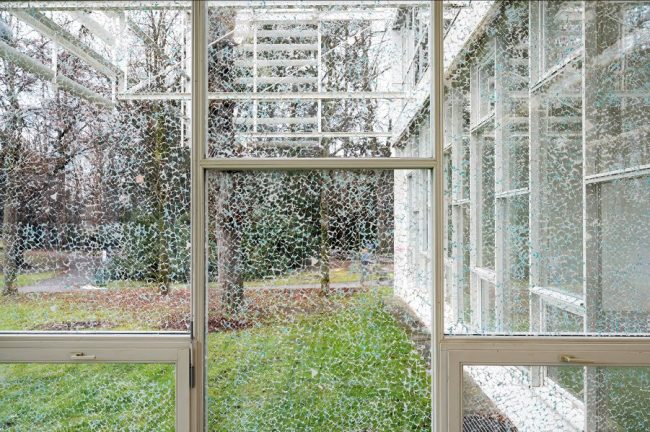 FORUM STADTPARK, Graz
curated by zweintopf
What we don't want to do here is to place an eloquent text in front of the work of art, outlining the only correct and exclusively rational approach to the work. The installation created by Nina Schuiki for Forum Stadtpark attempts to carefully expose all that is hidden behind objects, and the text is also intended to emphasise this transparency of the work. "Transparency" writes Susan Sonntag "means experiencing the luminosity of the object itself, of all the things in its essence"[1]. Text should not interfere with the sensual experience of art. Instead, the viewers should be given the opportunity to re-activate their senses. Susan Sonntag's statement "We must learn in order to see more, to hear more and to feel more"[2]provides clear instructions for visiting the exhibition.
"The space should remain as empty as possible; I want to emphasise the dialogue that takes place between inside and outside" wrote Nina Schuiki in February 2020 when describing her site-specific installation. The exhibition originally would have been opened in May, so it was already set up before that. And still, one has to view the work at present both through the lens of the pandemic and in context with it. It is not possible to separate the two, because the work fits quite naturally within the framework of experiential and emotional references that we have been given during this momentous year. Good works of art often manage to make life more understandable to us in new ways. But sometimes it's the other way around: Life or even a pandemic can enable us to understand art in a new way. As a watchword for the visual arts programme in Forum Stadpark, KUNST [ART] today means exactly that: Good art is always current. And its contemporary nature, its strategic position at a crossroads within society – with all of its trends and problems – also inspires Nina Schuiki in important ways. Her works walk the tightrope between comfort and discomfort and serve as an example of a "therapeutic use of art". Aristotle cited this use in his philosophy: By challenging us, art brings hidden emotions to light and purifies them.[3]
The phrase "Hypochondria Heart"[4], chosen as the title of the exhibition, has been taken from a book by Svetlana Boym. It refers to nostalgia as an incurable illness, as a longing for another time and a primordial form of experiencing the sense of self, free from forced progress and productive time management. In this context, Nina Schuiki's persistent preoccupation with transience and continuity also adopts a utopian dimension – after all, she is searching for a time beyond time.
In her central work Sorrow Window, Nina Schuiki takes a characteristic window façade and creates a pattern based on photographs of broken panes of safetyglass that she found in public space; these images are then sprayed directly onto the pane. This thin membrane that is revealed between the art venue and the – in part politically and deliberately problematised – public sphere exposes a seeming fragility, which we may never have noticed before. Perhaps it has always been present. As Susan Sonntag writes, it is as if Nina Schuiki reduced the content of her work precisely for this reason, until the matter itself was exposed: the essence of this relationship between space, art and society. The English term sorrow indicates sadness, but also suffering, pain and grief. Sorrow Window thus becomes an existential wailing wall that subtly but urgently reveals what we potentially have to lose. In terms of places and relationships. So much has fallen by the wayside this year. And yet: We will get these back.
zweintopf 2020
[1] Susan Sonntag, Gegen Interpretation, in: Susan Sonntag, Kunst und Antikunst. 24 literarischeAnalysen, Frankfurt, 201511, p. 21
[2] ditto, p. 22
[3] ditto,p. 11
[4] Svetlana Boym, The Future of Nostalgia, 2001
WORKS:
DarknessSpoken, 2020. This work takes the idea of the spoken newspaper and runs with it. Emil Breisach used this format in the opening week of Forum Stadtpark to express current political commentary. Nina Schuiki has invited artists to provide her with text fragments at dark times. In the exhibition, these texts are kept deliberately short and are spoken into the space at a certain interval by a member of the supervisory staff. Selected texts by Melanie Ender, Elaine Wing-Ah Ho, Mihret Kebede, Bettina Landl and Catharina Szonn are performed orally within the exhibition.
For silence is a desolation scream inside your heart, 2020. Text, installed in three display windows in the outer façade
I still see you in everything (II), 2020. Tears, glass objects (hermetically sealed)
I still see you in everything (III), 2020. Eight-part photo series, direct print on white glass, each 20 cm in diameter
WoundsItch, 2019. Wax, colour pigments. According to an ancient custom practiced in Jerusalem, candles are cut to the exact height of a child and lit to ward off illness or stress. Nina Schuiki used black-coloured wax to assemble seven long, white candles from fragments.