NOWs: Muster Raum. Façade – Face – Fake – Fakt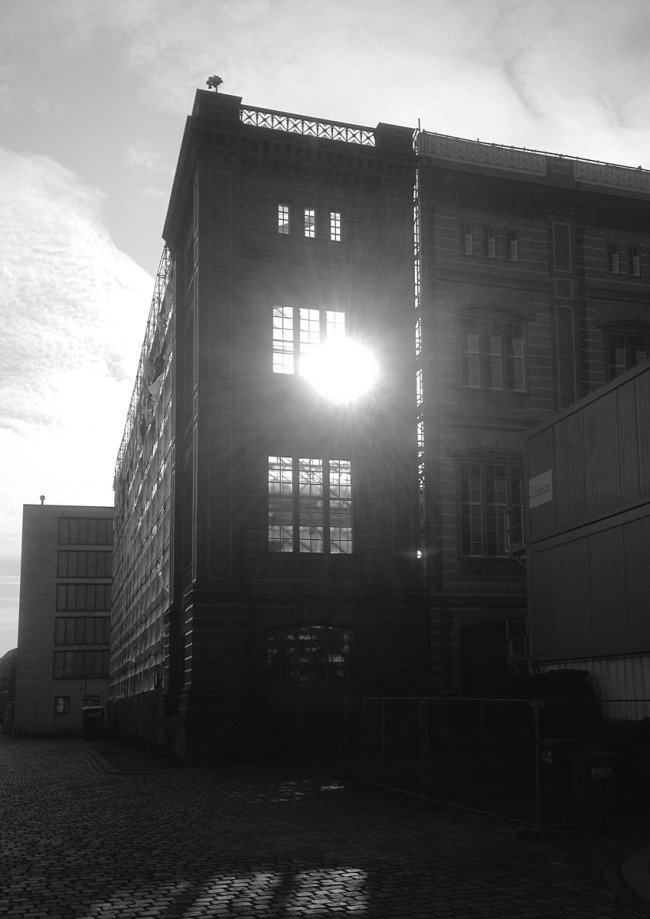 Muster Raum
Façade – Face – Fake – Fakt
Opening
Saturday, 24 March 2018, 6 – 11 pm
24 – 25 March 2018
Sat 6 pm – 11 pm
Sun 12 am – 8 pm
Panel Talk
Sunday, 25 March 2018, 3 – 4 pm
Dr. Marc Wellmann, Anette Ahme, Dr. Ing. Helmut Maier, Stephan Klee
Moderation by Jan Kage
frontviews temporary at
Schinkelsche Bauakademie
Schinkelplatz
10117 Berlin
With Christl Mudrak, Johanna Jaeger, Karl Ludwig Lange, Kathrin Köster, Markus Wüste, Nina Fischer & Maroan el Sani, Ole Meergans, Philip Topolovac, Raul Walch, Sandra Krause Gomez, Sinta Werner. Arranged und produced by Stephan Klee and Branislav Mihajlović.

Historicising? Progressive? Intrepid? How do we want our city to be viewed? Berlin is changing rapidly and we have to ask ourselves in which direction we are heading. Twelve artists will follow up on this question and move into the "Roter Saal" of the former Bauakademie at Berlin Mitte's Schinkelplatz. On 24th and 25th of March their room interventions and conceptual works will create a space for discourse that is completed by a panel discussion on Sunday, 25th at 3:00 pm. Just like the face of a person belongs inseparably to his or her identity, the face of a city offers deep insights into it's very own character. However, it's surface doesn't only record the ravages of time, but it does also become a document of human's active interventions. Thus, as soon as places are endowed with meaning and buildings are capitalised to embody certain visions of the future, decisions have to be taken. Whether a ruin is left untouched or being demolished, whether reconstruction seems reasonable or rather the composition of an entire new building: Either way a new factuality is set up. It's effectiveness lies in it's power to create a city's future identity, rather than portraying an already consisting one.
So what kind of Berlin is developing there right before our eyes? The exhibition »Muster Raum« doesn't take this question to an historically neutral environment. It operates in a place that is shaping the city's form and character decisively. The "Roter Saal" itself emerged as a product of a changeful history, that the artists will be dealing with via spatial interventions and conceptual works. It is an exact copy of the so called "Musterraum" (model room), that was located in Karl Friedrich Schinkel's Bauakademie. Opening it's doors in 1836, it got burned out during the last blows of WWII and was completely demolished as the GDR government decided to build their foreign office just at the spot in 1962. After Germany's reunification the communist reminiscence had to yield and the areal was being left empty for several years. Only a scaffold was placed there to hint at the ground's history, holding a tarpaulin that carries an imprint of the former Bauakademie's appearance. This simulation of it's façade surrounds the only room that has been reconstructed in it's original form so far: the "Rote Saal".
But the aim is to rebuild the whole Bauakademie. Considering the massive critique that the adjacent Humboldtforum had to face, there are questions arising: Do we want to take up Schinkel's architectural heritage and go in for a radically new way of thinking about buildings? If yes, would this mean to stick to a reconstruction true to the original or would this require a contemporary interpretation? And what kind of events shall be installed there, which contents have to be conveyed? Commonly, those thoughts are being discussed in architectural offices, museums or in ministries, but not within the specific premises at the centre of discussion. The exhibition »Muster Raum« is up to inhibit this. We want a debate that is closely linked to the place where it belongs.
Lisa Schmidt-Herzog
—
This project is made possible by Bezirks Kulturfonds Berlin and Karl Hofer Gesellschaft