NOWs: ONLY by Jonas Wendelin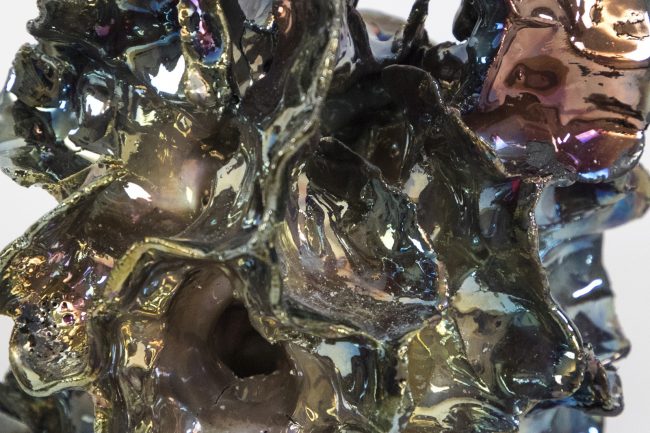 Dittrich & Schlechtriem
Linienstrasse 23
10178 Berlin
DITTRICH & SCHLECHTRIEM is pleased to present the first solo exhibition with JONAS WENDELIN (b. Düsseldorf, DE, 1985) in our gallery, titled ONLY, on view from Monday, 15 June, through Saturday, 29 August, 2020.
The exhibition was originally scheduled to open as part of Gallery Weekend Berlin 2020. Due to the lockdown in Los Angeles, the artist could not travel to Europe and the works could not be shipped to Berlin. The show was substantially conceived in 2019.
For his first solo show ONLY at the gallery, Wendelin deconstructs the actual and symbolic context of the gallery, exposing its methodologies through a fictive architectural installation and aligning strands of his thinking into a narrative spanning from conceptual found objects to the visceral physicality of his ceramics practice. ONLY engages the public in an alternative reality, pursuing an organic futuristic narrative of idealism and leaving the viewer with hope in dystopia.
An ecology held together by stories needs people to hear them and retell them. But how do these tales disintegrate without an audience? And without civilization to know the difference between natural matter and cultural objects, how might these things take on or leave behind lives of their own? Wendelin's question is: "When we leave or vanish, how will the dust settle? If we return, what new traces will be found?"
He stages these questions in the form of a scene. The exhibition is set in a gallery concealed by broadsheets posted over its windows. These are pages of a publication commissioned and edited by the artist called THE ALLUSION, whose contributors have offered "fictions on fiction" that dissect conceits of the show while also propagating them.THE ALLUSION is produced in collaboration with multiple artists, architects, writers, and journalists and describes an entry to this illusion of abandonment. Through the juxtaposed, overlapping, and contradicting contributions, it aims to limn perspectives examining these tools of contemporary fiction. The involvement of different voices raises the question of individual agency and opens gateways toward shaping a shared evaluation of objects and belief systems.
The inside of the exhibition suggests the aftermath of some progress-halting event. Wandering among empty workstations through the stripped gallery, one can see that files and business machines have been replaced with jars of preserved foods predating the internet. Some are from the Chernobyl era, artifacts of times shaped by disaster, and in response, by the physical limitations of bodies and of resources like these. Wendelin presents them here as readymades and as bunker decor, items that might be found in a place where survivors subsist waiting for history to restart its engine.
Dozens of organic, aqueous forms are littered around the galleries themselves. These are ceramic artworks made by Wendelin titled ONLY ONE, TWO, THREE … counting upwards in numeric evolution. Despite their raw contours and appearance of natural proliferation throughout the space, these are hand-pinched and deliberately placed sculptures. Here as thousands of years ago, they are the product of ritualistic methods, the practice of which could be thought to hold some part of the time concentrated within their making. Their abyssal lusters are the result of a chemical-induced glazing technique called raku. To achieve these, the sculptures are removed from the kiln at their peak temperature of more than 1800 degrees and placed in metal containers full of paper that combusts upon contact. The resulting carbon compounds extract otherworldly colors from the suffocated glazes. Charred remnants of paper appear in traces around the sculptures. In their virgin form they are pages from the publication pasted in the gallery windows, which have also been placed in geometric stacks throughout the exhibition to be taken.
Additionally, stored up in shelves, are customized preserves from the last decades dating back to 1945, pre-internet or -Chernobyl. These objects assemble a sentiment or timeline of technology in the early stages of our kind, to the enhancements leading up to our way of life today, with generational differences widening more than ever as it accelerates. The shift in consumption laid the foundations for our technological revolutions, elevated our consciousness to experimentation, and refocused our attention to develop increasingly complex social structures. These objects are reminders of a world prior to our human-centric sphere.
The above contains excerpts from the press text of Kevin McGarry, published in THE ALLUSION.
Jonas Wendelin currently works between Los Angeles and Berlin. His work includes performance, sculpture, installation, studies in traditional ceramics, as well as the facilitation of cultural spaces, initiating, cultivating, and directing a social vision that queries cultural abetments. Wendelin is a co- founder and director of FRAGILE, a multi-disciplinary nonprofit project for contemporary artistic practices located in Berlin. FRAGILE encompasses an exhibition and a residency space, and fosters a program of conversation, antagonism, renegotiation, and celebration. He is also a co- founder of NAVEL, a community-driven nonprofit residency, learning platform, and self-defined test site for collectivity and creative practices in downtown Los Angeles. Wendelin graduated as Hito Steyerl's Meisterschüler from the Berlin University of the Arts and was a participant at Olafur Eliasson's Institut für Raumexperimente (Institute for Spatial Experiments). Wendelin was an artist in residence at the American Museum Of Ceramics Art, AMOCA in Pomona, California. His work has been shown at Hamburger Bahnhof— Museum für Gegenwart, Berlin; KW Institute for Contemporary Art, Berlin; MoMA PS1, New York; Neue Nationalgalerie, Berlin; The Storefront for Art and Architecture, New York; and NAVEL, Los Angeles.
For further information on the artist and the works or to request images, please contact Nils Petersen, nils(at)dittrich-schlechtriem.com.