Reading Practice
Making Of: Reading Practice
Curated by Eric Ellingsen and Christina Werner
A text is suggested by a different participant each week and then that text is complimented with additional texts by the directors. Readings of the texts are done out loud by all the participants at the round table; recordings of authors, when available, are listened to, and everything is laced with discussions.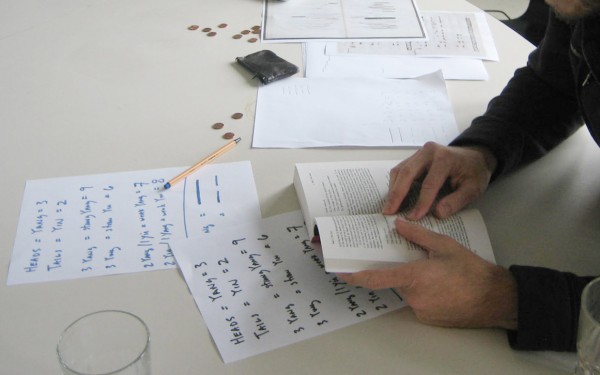 READING MATERIAL
Artmann, Hans Carl, "Acht-Punkte-Proklamation des poetischen Aktes", in: Gerhard Rühm (Hrsg.): Die Wiener Gruppe. Achleitner, Artmann, Bayer, Rühm, Wiener. Texte, Gemeinschaftsarbeiten, Aktionen, Hamburg 1967, S. 9–10.
Ball, Hugo, "Dada Manifesto", in: Dawn Ades, The Dada Reader: ACritical Anthology, Chicago 2006, o. S.
Bowlt, John E., A Splap in the Face of Public Taste: A Jubilee for David Burliuk and the Cause of Russian Futurism, Irvine 1986.
Duchamp Marcel u. a., Marcel Duchamp: Musical Erratum and in Conversation, Audio CD, LTM Recordings, North Elmham 2008.
Eliot, T. S., Burnt Norton, London 1941.
Folie, Sabine (Hrsg.), Un coup de dés, Aust.-Kat. Generali Foundation Wien, Köln 2008.
Gabo, Naum und Antoine Pevsner, Das Realistische Manifest, Berlin 1988.
Gertrude Stein, Picasso, Boston 1959.
Lightman, 
Alan P., Einstein's Dreams. A Novel, New York 1993.
Lissitzky, El, "Nasci", in: Kurt Schwitter, Merzhefte, Faksimile-Nachdruck, Bern 1975, o. S.
Mac Low, Jackson, The Black Tarantula Crossword Gathas the 8-Voice Stereo-Canon Realization, Düsseldorf 1977.
Mallarmé, Stéphane, Un coup de dés , New York 1992.
Marinetti, F. T., "The Founding and Manifesto of Futurism", in: Flint, R. W., Marinetti. Selected Writings, New York 1972, o. S.
Marinetti, F. T., La battaglia di Tripoli, Padua 1912.
Marinetti, F. T., "Dune, parole in libertà", in: Luciano De Maria, Teoria e invenzione futurista, Mailand 1983, o. S.
Meyer, Hannes, "Bauen", in: Martin Kieren u. a., Hannes Meyer, Architekt, 1889-1954. Schriften der zwanziger Jahre im Reprint: ABC, Das Bauhaus, Das Werk. Baden 1990, o. S.
Moholy-Nagy, László, "Dynamish-konstruktives Kraftsystem", in: Der Sturm, 5. Dezember 1922, S. 186.
Moholy-Nagy, László, Vision in Motion, Chicago 1947, S. 11–12.
Moscow, A. Krutschonjch, "Figurinen, die plastische Gestaltung der elektro-mechanischen Schau "Sieg über die Sonne" , in: El Lissitzky, Figurinen-Mappe, Hannover 1923.
Perec, Georges, "The Street", in: Georges Perec und John Sturrock, Species of Space and Other Pieces, London 1997, S. 44–55.
Queneau, Raymond, Exercises in Style, New York 1981.
Rensch, Peter, Hugo Ball: Karawane, Berlin 1995.
Schwitters, Kurt, "Ur Sonata", in: Jerome Rothenberg u. a., Poems, Performances Pieces, Proses, Plays, Poetics, Philadelphia 1993, o. S.
Taut, Bruno, "Down with Seriousism", in: Ulrich Conrads, Programs and Manifestoes on 20th-Century Architecture, Cambridge 1971, o. S.
Wilhelm, Richard und Cary F. Baynes (Hrsg.), The I Ching; Or, Book of Changes, Princeton 1967.