NOWs: I'm afraid I must ask you to leave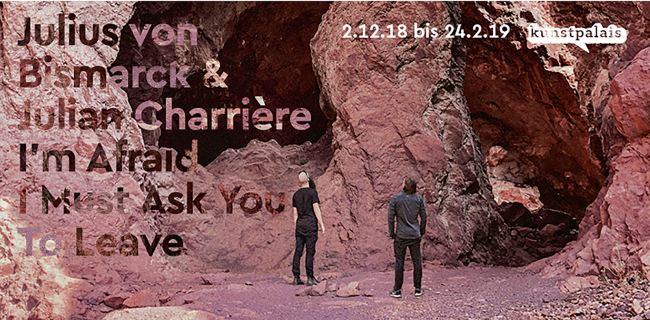 I'm afraid I must ask you to leave
Julius von Bismarck and Julian Charrière
Palais Stutterheim
Marktplatz 1
91054 Erlangen
Eröffnung: 1. Dez. 2018
Julius von Bismarck (*1983 in Breisach am Rhein) und Julian Charrière (*1987 in Morges, Schweiz) vereint eine besondere Herangehensweise an das Kunstschaffen: mit Forschungsreisen bis ans Ende der Welt und quasi-naturwissenschaftlichen Experimenten nähern sie sich dem Thema ihres Interesses, um ihren eigenen Hypothesen dazu schließlich in Skulptur, Video oder Fotografie Ausdruck zu geben – humorvoll und bildgewaltig.
Beide arbeiten mit unterschiedlichen Schwerpunkten an der Schnittstelle von Kunst und Wissenschaft. Seit sich Charrière und von Bismarck bei ihrem Studium bei Olafur Eliasson an der Universität der Künste in Berlin kennen lernten, teilen sie sich ein Atelier und sind beste Freunde. Für ausgewählte Projekte finden sie auch in ihrer Arbeit zusammen.
Für ihr Werk Some Pigeons Are More Equal Than Others entwickelten Charrière und von Bismarck eine Maschine, in der Tauben auf öffentlichen Plätzen eingefangen, mit natürlichen Farbstoffen eingefärbt und dann wieder in die Umwelt entlassen wurden. Die Taube, oft als schmutziges oder im besten Fall unscheinbares Tier missachtet, erfährt so nicht nur im wörtlichen Sinne neues Ansehen.
In Ägypten, Deutschland, Island, Mexiko und der Schweiz beschrifteten sie für die Serie Kunst seit 2012 mit einer Art überdimensionalem Graffiti natürliche Orte. Unter anderem die koloniale Geste des Beanspruchens und Benennens von Natur wird implizit thematisiert, wenn Mountain den Berg, Jungle das Blätterdickicht in riesigen Lettern bezeichnet.
Während sie sich in diesen beiden Arbeiten mit menschlichen Eingriffen in die Natur und deren Wirkungen und Aussagen beschäftigen, dreht es sich in ihrer neuesten Arbeit um die symbolische Aufladung einzelner Naturmonumente und die Fetischisierung der Natur: Thounds And Thounds Of Years And Only Now Things Happen entstand anlässlich der Ausstellung im Kunstpalais und ist hier erstmals zu sehen.
Mit ihrem gemeinsamen Œuvre stoßen Julian Charrière und Julius von Bismarck eine intensive Reflexion über unser Verhältnis zur Natur an. Arbeiten beide zusammen, entstehen Werke, die gleichermaßen wissenschaftlich, sinnlich, kurios, auratisch, gelehrt, hintergründig und – im allerbesten Sinne – größenwahnsinnig sind. I'm Afraid I Must Ask You To Leave ist ihre erste große Ausstellung als Duo.