NOWs: Artists Care About Bridges
FUNDRAISING initiated by Artists Care About Bridges at Acud Macht Neu
In support of the international movement SEEBRÜCKE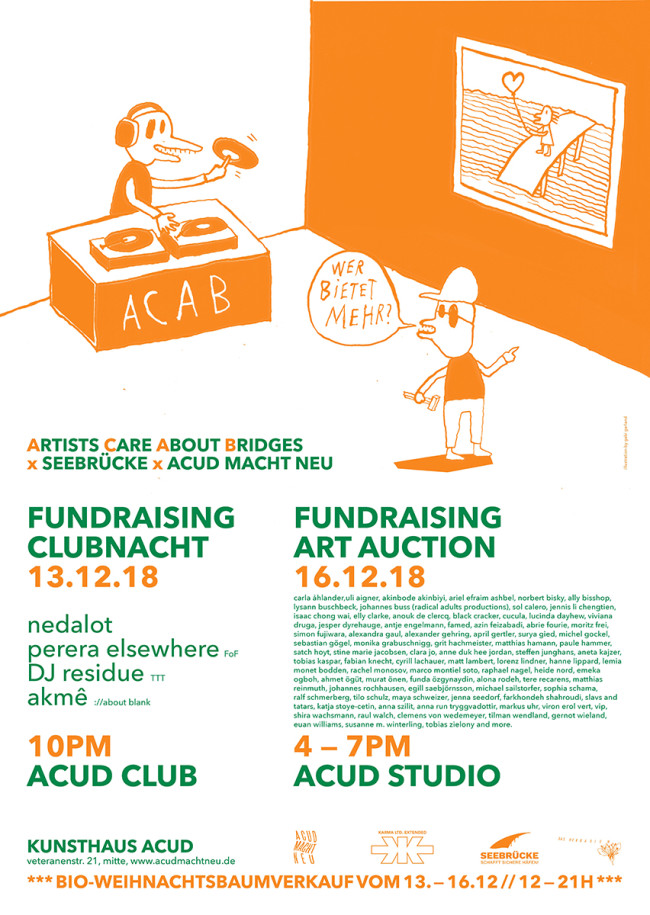 Artists Care About Bridges veranstaltet eine Reihe von Fundraising Events im Acud Macht Neu. Alle Einnahmen werden direkt der international agierenden Bewegung SEEBRÜCKE gespendet.
13.12.2018
ab 22:00 Uhr im Acud Club
FUNDRAISING CLUBNACHT
16.12.2018
16:00-19:00 Uhr
Acud Studio
FUNDRAISING ART AUCTION
13.12. – 16.12.2018
12:00-21:00 Uhr
Acud Innenhof
FUNDRAISING CHRISTMAS TREE SALE
Acud Macht Neu
Veteranenstrasse 21
10119 Berlin
Im gegenwärtigen sozialen und politischen Klima, in welchem Abschottungspolitik und globaler Nationalismus ins Unermessliche zu wachsen drohen, brauchen wir als KünstlerInnen, KuratorInnen, AktivistInnen und Menschen buchstäblich Brücken, um gemeinsam zu agieren und unseren Handlungsspielraum erweitern zu können. Aus diesem Grund veranstaltet die aktivistische Kollaboration
Artists Care About Bridges
am dritten Adventswochenende eine Reihe von Fundraising Aktionen am Acud Macht Neu um metaphorisch eine Brücke zu bauen und einen Ort der Begegnung zu schaffen. Eine Clubnacht, eine Kunstauktion, sowie der Verkauf von nachhaltigen Weihnachtsbäumen dienen zur Unterstützung der international agierenden Bewegung
SEEBRÜCKE
ist eine dezentral organisierte, zivilgesellschaftliche Bewegung, die sich gegen die europäische Abschottungspolitik sowie gegen die Kriminalisierung von Seenotrettung im Mittelmeer richtet.
Artists Care About Bridges
stehen vollumfänglich hinter der Forderung der
SEEBRÜCKE
, europaweit sichere Fluchtwege, eine menschenwürdige Aufnahme von Geflüchteten und eine Entkriminalisierung der Seenotrettung zu sichern. Migration ist der Motor, der Kultur und Gesellschaft schon immer bereichert hat. Anstatt Grenzen zu schließen, müssen wir Brücken schaffen und für ein offenes Europa eintreten.
Artists Care About Bridges ist eine aktivistische Kollaboration, welche von der Kulturproduzentin Kathrin Pohlmann und der Künstlerin Anne Duk Hee Jordan initiiert, von den Kuratorinnen Pauline Doutreluingne und Petra Poelzl (Karma Ltd. Extended) mitkonzipiert und durch Bioland Herbarium Leipzig und Acud Macht Neu unterstützt wird.
FUNDRAISING CLUBNACHT
13.12.2018
ab 22:00 Uhr
Acud Club
Zum Launch von Artists Care About Bridges gibt es eine Clubnacht mit einem pumpenden Line-Up featuring Nedalot, Perera Elsewhere, DJ Residue (TTT) und Akmê (://aboutblank).
Nedalot
NEDALOT ist eine in Berlin ansässige Hip-Hop und R'n'B-DJ, die sich im queeren Untergrund bewegt. Mit ihren kunstvollen Mixen aus klassischem Hip-Hop gepaart mit neuer beatbasierter Bassmusik hat sie sich schon einen Namen als Support für Künstlerinnen und Künstler wie Diplo, A.G. Cook und Zebra Katz gemacht.
https://soundcloud.com/nedalot
Perera Elsewhere (FoF) – DJ Set
Als Kind sri-lankischer Eltern in London geboren und aufgewachsen, sozialisiert von Dub und Notting Hill Carnival, ist Sasha Perera im Jahr 2000 in Berlin gestrandet und hat von dort aus als Sängerin der Band Jahcoozi nachhaltig die Club-Kultur beeinflusst. Anderswo verorten möchte sich Perera allerdings mit ihrem Solo-Projekt Perera Elsewhere, dessen verwaschener Sound, politische Texte und postdigitale Ästhetik seit ihrem Debütalbum "Everlast" international Wogen schlägt. Auf Reisen sammelt Perera klangliche Inspirationen und vermengt diese mit einer Prise Trip Hop zu grenzübergreifender Popmusik. Im Zuge der Fundraising Clubnacht wird Perera Elsewhere uns mit einem DJ-Set beehren.
https://soundcloud.com/bordermovement-2/mother-perera-border-movement
DJ Residue (TTT)
Techno Excursions
Akmê (://about blank)
Akmê's DJ-Sets sind profunde improvisierte Odysseen, die in die Gefilde tiefer Emotionen eindringen. Einfach gesagt: Techno mit Groove.
FUNDRAISING ART AUCTION
16.12.2018
16:00-19:00 Uhr
Acud Studio
Unter dem Leitsatz 'Baut Brücken und keine Grenzen' veranstaltet Artist Care About Bridges eine Kunstauktion. Für diese Auktion haben zahlreiche in Berlin lebende Künstlerinnen und Künstler spontan Arbeiten gespendet, welche im Zuge dieser Auktion ersteigert werden können. Die Liste der beteiligten Künstlerinnen und Künstler wächst stetig.
Carla Åhlander, Uli Aigner, Akinbode Akinbiyi, Ariel Efraim Ashbel, Norbert Bisky, Ally Bisshop, Monika Bonvicini, Lysann Buschbeck, Johannes Buss (Radical Adults Productions), Sol Calero, Jennis Li Chengtien, Anouk De Clercq, Isaac Chong Wai, Elly Clarke, Cucula, Lucinda Dayhew, Viviana Druga, Jesper Dyrehauge, Antje Engelmann, FAMED, Azin Feizabadi, Abrie Fourie, Moritz Frei, Simon Fujiwara, Alexandra Gaul, Alexander Gehring, April Gertler, Surya Gied, Michel Gockel, Sebastian Gögel, Monika Grabuschnigg, Roman Graneist, Grit Hachmeister, Matthias Hamann, Paule Hammer, Stine Marie Jacobsen, Clara Jo, Anne Duk Hee Jordan, Steffen Junghans, Aneta Kajzer, Tobias Kaspar, Susanne Keichel, Fabian Knecht, Cyrill Lachauer, Matt Lambert, Lorenz Lindner, Hanne Lippard, Lemia Monet Bodden, Rachel Monosov, Marco Montiel Soto, Raphael Nagel, Henrike Naumann, Heide Nord, Emeka Ogboh, Ahmet Ögüt, Murat Önen, Funda Özgynaydin, Peaches and Black Cracker, Alona Rodeh, Tere Recarens, Matthias Reinmuth, Johannes Rochhausen, Egill Saebjörnsson, Michael Sailstorfer, Sophia Schama, Ralf Schmerberg, Tilo Schulz, Maya Schweizer, Jenna Seedorf, Farkhondeh Shahroudi, Slavs and Tatars, Katja Stoye-Cetin, Anna Szilit, Anna Run Tryggvadottir, Markus Uhr, Viron Erol Vert, VIP, Shira Wachsmann, Raul Walch, Clemens von Wedemeyer, Tilman Wendland, Gernot Wieland, Euan Williams, Susanne M. Winterling, Tobias Zielony.
Der Auktionskatalog ist ab 06.12.2018 via http://www.revoluzy.org einsehbar.
Auktionator: Fares Al-Hassan
Ebenso wird es die Möglichkeit geben, Bücher von Künstlerinnen und Künstlern bei der Auktion zu erstehen. Der Ertrag des Büchertisches geht ebenso an
SEEBRÜCKE
.
FUNDRAISING CHRISTMAS TREE SALE
13.12 – 16.12.2018
von 12:00-21:00 Uhr
Acud Courtyard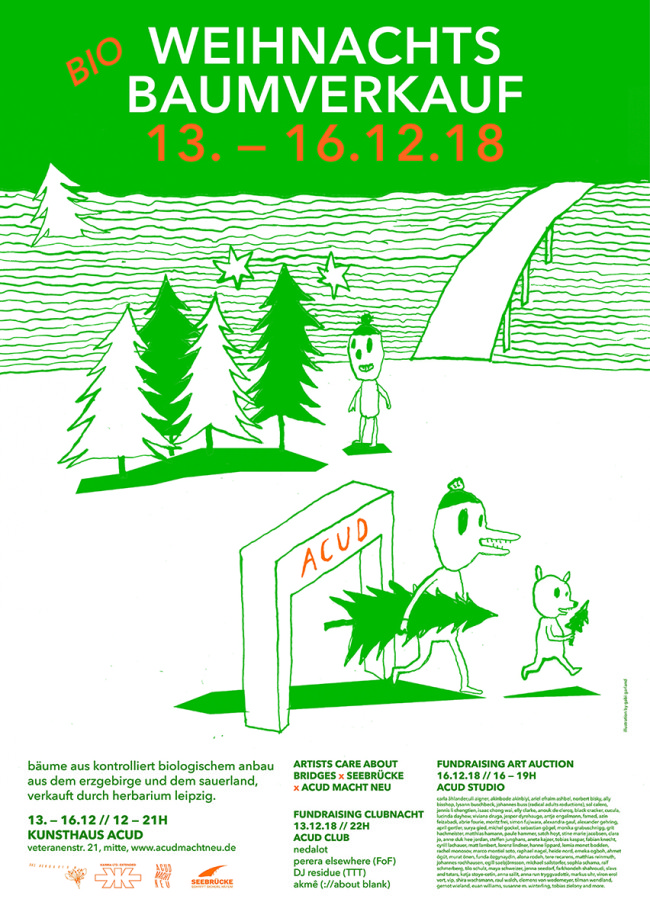 Verkauf von Weihnachtsbäumen aus kontrolliert biologischem Anbau Vom 13. Bis 16.12. schlägt das
Bioland Herbarium Leipzig
im Innenhof des Acud Macht Neu seine Zelte auf und bietet Weihnachtsbäume aus kontrolliert biologischem Anbau aus Leipzig zum Verkauf an. Herbarium Leipzig fördert und praktiziert ökologischen Landbau und lässt sein Wissen um diesen immer wieder in eine Vielzahl von interdisziplinären künstlerischen Kooperationen einfließen.
Folgt uns auf Instagram