NOWs: K60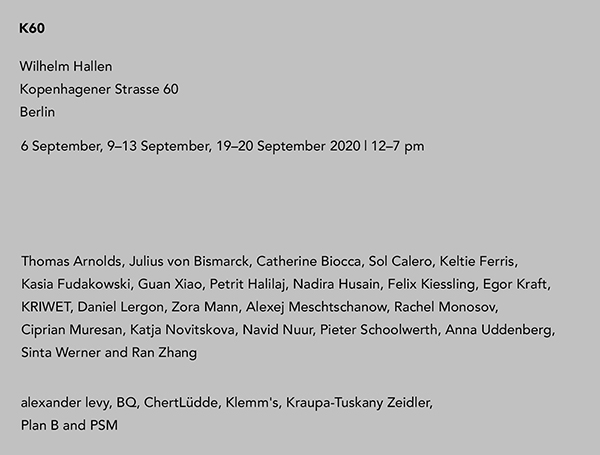 Wilhelm Hallen
Kopenhagener Strasse 60
13407 Berlin
Opening 06.09.2020, 12–7 pm
Opening hours: 9–13 September, 19–20 September 2020, 12–7 pm
Seven Berlin galleries – alexander levy, BQ, ChertLüdde, Klemm's, Kraupa-Tuskany Zeidler, Plan B and PSM – will open the joint exhibition K60 on September 6th, 2020. The opening will feature the performance installation The Blind Leader by artist Rachel Monosov.
Works by Thomas Arnolds, Julius von Bismarck, Catherine Biocca, Sol Calero, Keltie Ferris, Kasia Fudakowski, Guan Xiao, Petrit Halilaj, Nadira Husain, Felix Kiessling, Egor Kraft, KRIWET, Daniel Lergon, Zora Mann, Alexej Meschtschanow, Rachel Monosov, Ciprian Muresan, Katja Novitskova, Navid Nuur, Pieter Schoolwerth, Anna Uddenberg, Sinta Werner and Ran Zhang will be on view.
All events take place in compliance with current hygiene measures.