NOWs: Art + Landscape STL at Granite City Art and Design District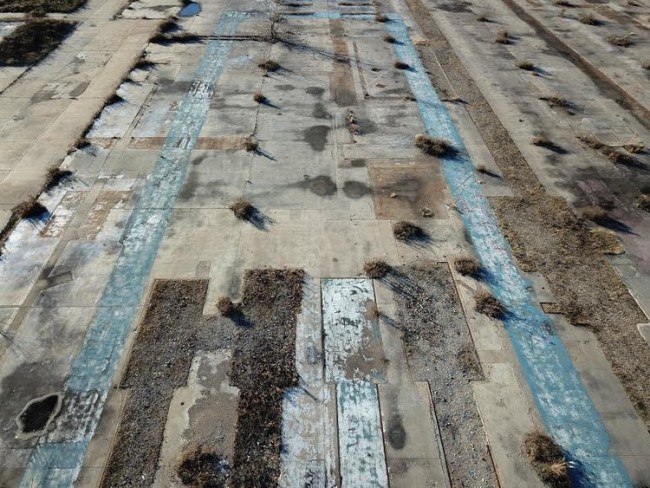 Art + Landscape STL
short-term laboratory
Granite City, Illinois, USA
Art + Landscape STL is an intensive, short-term laboratory for St. Louis-based artists and designers working at the intersection of art and landscape.
Emerging from an ongoing series of private discussions and excursions, the project is anchored by a public exhibition, Art + Landscape STL, installed throughout G-CADD's campus and unfolding through five weekends of programs on-site—performances, talks, walks, and more.
Participants: Michael Allen, Betsy Brandt, Christopher Carl, Jennifer Colten, Sage Dawson, Eric Ellingsen, Meghan Grubb, Derek Hoeferlin, Shabez Jamal, Gavin Kroeber, Yowshien Kuo, Aaron Owens, Tim Portlock, Jenny Price, Katherine Simóne Reynolds, Allana Ross, Micah Stanek, Rory Thibault, Westhaven Ensemble, and Rachel Youn. The project is organized by Gavin Kroeber.
The exhibition will be open select days from Sunday 10 March to Saturday 6 April as follows:
Sunday 10 March
5-8pm Special Event: Mississippi. An Anthropocene River
Presented in partnership with HKW (Haus der Kulturen der Welt, Berlin) and the Max Planck Institute (Berlin) as part of their wider initiative
Mississippi. An Anthropocene River.
5pm Exhibition opens
6pm Public Dialogue: Confluences with HKW and Art + Landscape STL
7pm How Not What: Power, Time & Landscape | Performance by Michael Allen
Saturday 16 March
6-10pm Opening Celebration + STNDRD reception
7pm Public Dialogue: Curating the Landscape with Gavin Kroeber, Michael Behle, Jessi Cerutti, Kristin Fleischmann Brewer, Charis Norell, Dana Turkovic
Ambient Performances by Betsy Brandt
Saturday 23 March
1-5pm
1pm Public Dialogue: Locating the Human. Contemporary Landscape as Eco Art with Ila Sheren
2pm Poetry Readings curated by Ted Mathys
With Eric Ellingsen, Jacqui Germain, David Alejandro Hernandez, Devin Johnston, Dana Levin, Aditi Machado, Ted Mathys
3pm Scaping Habitus | Workshop with Esther & Beth Neff (MARSH)
4pm Public Dialogue: Art + Landscape Roundtable
Ambient Performances by Betsy Brandt
Thursday 28 March
6pm Conversation with Art + Landscape STL participating artists Christopher Carl, Sage Dawson, Meghan Grubb, Yowshien Kuo, and Allana Ross
Saturday 30 March
1-5 pm
1pm Public Dialogue: Landscapes of Belonging
2pm the heartland landscape in the time of Rulers | Performance by Eric Ellingsen
3pm NNN Cook "Coordinates Checker (Traverse)" 2019 | Sound Performances
4pm Public Dialogue: Art + Landscape Roundtable
Saturday 6 April, Closing Day
1-5 pm
1pm Explorative Walk with Chris Carl & Jennifer Colten
2pm Performances:
The Homestead Project by Jenny Price
How Not What: Power, Time & Landscape by Michael Allen
Approaching Landscape City by Westhaven Ensemble
3pm Public Dialogue: Art + Landscape Closing Roundtable
Ambient Performances by Betsy Brandt
Art + Landscape STL Team:
Curatorial Assistant and Project Coordinator: Amela Parcic
AV Installations lead: Aaron Owens
Outdoor Installations lead: Allana Ross
Interns: Marshall Karchunas, Dongzhe Tao
Acknowledgements: Kranzberg Arts Foundation, Simiya Sudduth