NOWs: These New Puritans and Hans-Henning Korb at the ICA London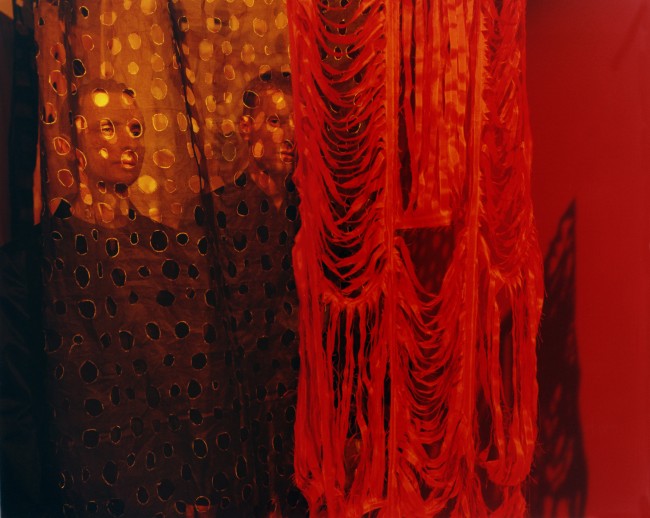 These New Puritans and Hans-Henning Korb at the ICA London
Concert and performance
These New Puritans premiere new work from their forthcoming album Inside the Rose alongside performance, music and installation by artists Soojin Chang, Freya Don and Graham Sutton.
Performing inside a specially-designed installation by textile artist Freya Don, the band present new music that couples powerful, progressive melodies with strings and brutal electronics.
Their performance is preceded by State of Possession, a live interactive presentation by Soojin Chang created to be experienced one-on-one with the artist, and a DJ set from producer Graham Sutton (of band Bark Psychosis and drum and bass project Boymerang).
The evening will also include the debut of recent These New Puritans video projects made in collaboration with photographer Harley Weir, filmmaker Daniel Askill and artist Hans-Henning Korb.
Founded by twin brothers Jack and George Barnett, These New Puritans are an English experimental music group whose music is not easily categorised. Their fourth album Inside the Rose will be released 22 March 2019.
Daniel Askill is a critically-acclaimed Australian filmmaker and long-time collaborator of These New Puritans. His unique sensibility spans a diverse body of work, which includes music videos, films, stage, commercials, photography and video installations. Askill's recent projects include Take Flight (2015), a virtual reality film for The New York Times featuring Michael Fassbender, Benicio del Toro and Charlize Theron.
Soojin Chang's artistic practice is led by an inquiry into political and individual trauma, particularly the way these are internalised and inherited in the body schema. Her performance and video works are driven by examinations into the agency and fertility of both humans and nonhumans. Her work seeks to deconstruct systems of oppression and power in order to rethink ecological destruction. She uses appropriation to challenge authorship and renegotiate representations, survival mechanisms, and immigration patterns of colonised cultures and diasporas. Selected exhibitions include MoMA PS1, New York; Institute of Contemporary Arts, London; Centre for Contemporary Arts, Glasgow; Microscope Gallery, New York; La Capela, Paris; and the Art/Life Institute, New York.
Freya Don is a London-based artist known for her dramatic, painterly use of textiles and collaborations with Harley Weir. Freya previously worked with the Barnett brothers on their music video for the single Inside the Rose and the subsequent album artwork.
Hans-Henning Korb is an artist based in Berlin. His practice combines sculpture, installation and performance, and often involves music, film, computer animation, virtual worlds, plants, and organic processes. Korb has exhibited internationally in venues including Hamburger Bahnhof, Berlin (2017); Empty Gallery, Hong Kong (2016); Neue Nationalgalerie, Berlin (2014); and Photo LA, Los Angeles (2012).
Graham Sutton is an English musician, songwriter, composer and record producer. He is best known for his role as the leader and key figure of seminal post-rock band Bark Psychosis, as well as his work as a producer for alternative rock bands since the late 1990s.
Harley Weir is London-born photographer and director known for creating intimate images and films in her personal, editorial and commercial work. Harley had her first solo exhibition in 2017 at Foam, Amsterdam, where her work is now in the permanent collection. She is a regular exhibitor at Photo London and Paris Photo. Her second solo exhibition Homes opened at the Brighton Biennial in September 2018.
With thanks to Media Partner Another Man
Tickets available here