NOWs: Dwell in Other Futures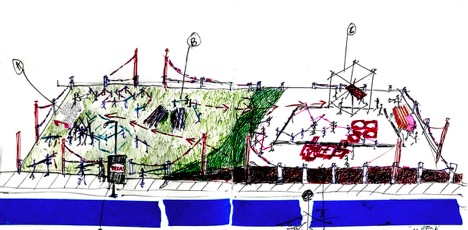 Dwell in Other Futures is a two-day festival of art and ideas exploring the collisions of race, urbanism, and futurism, providing a platform for alternate visions of the St. Louis to come. Launching Friday, April 27 at the Kranzberg Art Foundation's .ZACK arts facility, Dwell in Other Futures will continue at the Pulitzer Arts Foundation on Saturday, April 28.
–
The earth is blue like an orange greenway
Public performance: April 28, 1-2pm at the Pulitzer Foundation, PXSTL site (field across from the Pulitzer Foundation)
The earth is blue like an orange greenway is (1) a social engagement design experiment (2) a communication process for citizen based co-design agency (3) a ceremony welcoming the coming of the St Louis Chouteau Greenway.
Landscape design is an art form that co-produces knowledge, memories and stories through performance, perception and participation. When the design of our public spaces is inclusive, it becomes democracy in action. Civic values are spatialized and can be negotiated as a material dialogue articulated through critically oriented play.
You are invited to co-materialize a spatial design ritual welcoming the St. Louis Chouteau Greenway.
ALL SPECIES ARE WELCOME. MAY GET MESSEY.
Invitation to make statements
Two 'speakers platforms' will be set up as social infrastructure in the PXSTL site across from the Pulitzer Foundation. Each platform will be provided with a bullhorn. Everyone is invited to make statements up to 3 minutes in length. The statements should be oriented around the topic of LAND, LANDSCAPE, or LANGUAGE. This can be playful, political, philosophic or poetic.
Statement Examples: back-yard stories, bird encounters, nature play-grounds, gardens, forging, food recipes, landfills and lead, memories of Mill Creek Valley, trampoline beings, basketball courts, fishing holes, prairies burns, scientific studies, utility markings, milkweed and monarchs, monarchs, mounds, leaves of grass, SOS's, future speculations on storm water and trickles, anything to do with the Commons.
You are invited to make a statement.
Please bring poems, songs, something to read, something prepared, something improvised.
All ages welcome.
All species welcome.
If you would like to make a statement and don't feel like there is time to prepare a statement, poems and lyrical fragments will be provided.