NOWs: NGORO NGORO II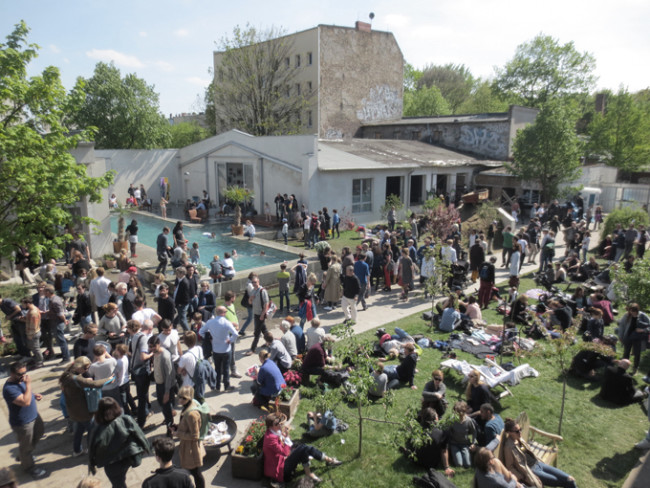 Lehderstrasse 34 / Berlin
EXHIBITION OPENING
Thursday 26 April 2018 / 10 am – midnight
EXHIBITION OPENING HOURS
Thursday 26 April, Friday 27 April, Saturday 28 April, Sunday 29 April 2018 / 10 am – midnight
A 4 day exhibition, which this year hosts over 150 artists, including:
Christian Achenbach, Etel Adnan, Johannes Albers, Roger Ballen, Maxime Ballesteros, Ali Banisadr, Georg Baselitz, Marcus Bastel, Marius Bercea, Stefan Berchtold, Bienert & von Gumppenberg, Matthias Bitzer, Andreas Blank, Simon Blume, John Bock, Katia Bourdarel, Nick Brandt, GL Brierley, Jonas Burgert, Cambodia 10th c. unknow, James Capper, Carmen Catuti, Carla Chan, Jake & Dinos Chapman, Mat Collishaw, George Condo, Jigger Cruz, Marina Cruz, Johannes Daniel, Birgit Dieker, Nathalie Djurberg, Uros Djurovic, Tjorg Douglas Beer, Peter Duka, Marlene Dumas, Zhivago Duncan, Kerstin Dzewior, Martin Eder, Tim Eitel, Ida Ekblad, Elmgreen & Dragset, Thomas Feuerstein, Amira Fritz, Ingo Fröhlich, Christopher Füllemann, Gilbert & George, Andrej Golder, Monika Grabuschnigg, Cecilia Granara, Philip Grözinger, Katharina Grosse, F.C. Gundlach, Stefanie Gutheil, Hannah Hallermann, Blalla W. Hallmann, Stella Hamberg, Siobhán Hapaska, Jens Hausmann, Aaron Hawks, Axel Heil, Uwe Henneken, Anton Henning, Nathanaëlle Herbelin, Gregor Hildebrandt, Stefanie Hillich, Petra Höcker, Ull Hohn, Christian Hoosen, Andy Hope 1930, Rachel Howard, John Isaacs, Michael Joo, Daniel Josefsohn, Jürgen Klauke, Jean Yves Klein, Wilhelm Klotzek, Yulia Kosulnikova, Alicja Kwade, Cyrill Lachauer, James Lavelle, Gonzalo Lebrija, Jeewi Lee, Antoine Le Grand, Daniel Lergon, Klara Lidén, Marin Majić, Mark Manders, Kylie Manning, Teresa Margolles, Paul McCarthy, Dominic McGill, Dirk Meinzer, Bjørn Melhus, Isa Melsheimer, Ryan Mendoza, Marilyn Minter, Polly Morgan, Andreas Mühe, Konrad Mühe, Maria Naidyonova, NASA / Edgar Mitchell, Bruce Nauman, Sebastian Nebe, Shirin Neshat, David Nicholson, Tim Noble & Sue Webster, David Ostrowski, SeungMo Park, Manfred Pernice, Danielle de Picciotto & Alexander Hacke, Sophia Pompéry, Fritz Poppenberg, Sven Potschien, Hannu Prinz, Thomas Rentmeister, Anselm Reyle, Robin Rhode, Stefan Rinck, Julian Röder, Madeleine Roger-Lacan, Julian Rosefeldt, Michael Sailstorfer, Anri Sala, Michael Samuels, Fette Sans, Lawrence Schiller, Moritz Schleime, Oskar Schmidt, Andreas Schmitten, Kerstin Schröder, Taras Sereda, Viveek Sharma, Florian Slotawa, Paul Sochacki, Aleen Solari, Jan-Peter E.R. Sonntag, Andrea Stappert, Jonny Star, John Stark, Peter Stauss, Marie Steinmann, Eva Teppe, The Silk Road Symphony, Orchestra / Jan Moritz Onken, P E Thomas, Betty Tompkins, Philip Topolovac, Peter Torp, Nasan Tur, Timm Ulrichs, Ludwig Vandevelde, Sandra Vásquez de la Horra, Bill Viola, Herbert Volkmann, Von Spar, Wiebke Maria Wachmann, Reijiro Wada, Anna Wagner, Nick Waplington, Wermke / Leinkauf, Pete Wheeler, James White, Patrick Will & Caspar Wülfing, Sislej Xhafa, He Xiangyu, Thomas Zipp, Zon.
For the period of Berlin gallery weekend 2018 and the second time in its history, the 6000 square meter studio spaces of Lehderstrasse 34 will host an incredibly diverse exhibition of paintings, sculpture, multimedia, installation, film and photography. Artists invite other artists to exhibit in the context of this studio environment, thus returning the viewer to the very place of art's genesis.