NOWs: Sand (Lommel) by Elise Eeraerts and Roberto Aparicio Ronda
Sand (Lommel)
intervention by Elise Eeraerts and Roberto Aparicio Ronda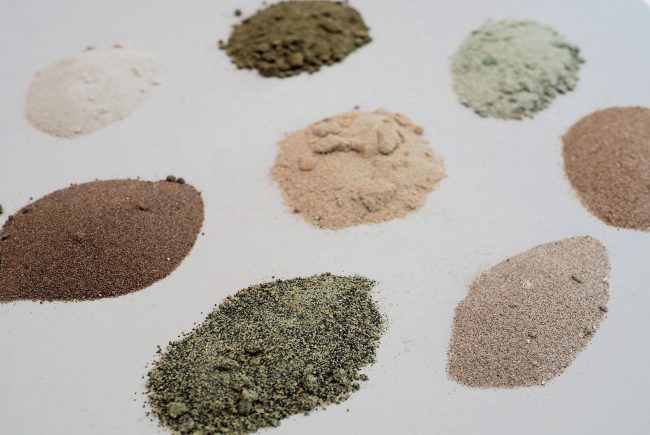 This year the intervention Sand (Lommel) will be realized at three different locations in the city center of Lommel, Belgium. It connects sand, nature, past and future in a special way. Lommel and sand as a material are intertwined through geological occurrences forming layers of sand measuring hundreds of meters below the earth's surface. These contain quartz sand typical for the area, a fine and extremely white sand which is mined for its properties and purity.
One line divided in three parts, made of sand in the pavement will visually connect three parks in the city.Through drilling until a depth of 200 meters, sand samples have been taken at each meter. Each sand sample will be made into triangular ceramic elements as a part of the intervention. A line made of three parts will be composed of more than 1000 modular triangles to form the layers of sand in their true scale. So, sand that was located at a depth of precisely 100 meters below the earth will instead be situated in a line at a length of 100 meters on the surface of the earth. This way the depth and visual aspect of the layers of sand become perceivable.
In order to complement this intervention, additional triangular elements will be assembled into tetrahedron shaped, helices that mimic the atomic crystal structure of quartz (sand), also know as silicon dioxide. Some tetrahedrons will contain plants that are typical of the biodiversity of Lommel's dune landscape. Other tetrahedrons will be covered in sand patterns, in reference to the local tradition of making sand carpets. Moreover, during a performative event, sand carpets will be installed temporarily in the city center.
Finally, the exact spot where the drilling occurred will be sealed with a silicon wafer, as a small memorial. This circular disc has the same diameter and shape as the drill. Silicon is crucial in our highly technological inventions, and it is the processed result that is extracted from silicon dioxide. That way the old – the natural, geological past revealed by the drilling, and the new – material transformation in science and technology, are confronted with each other.
These interventions combine and originated from the idea of making the invisible visible. From the vast layers of sand, to the crystal structures of the quartz atoms and forgotten traditions, the presence of these elements in public space will make these ideas and therefore the city's identity more tangible.