NOWs: Accrochage
Accrochage
online group show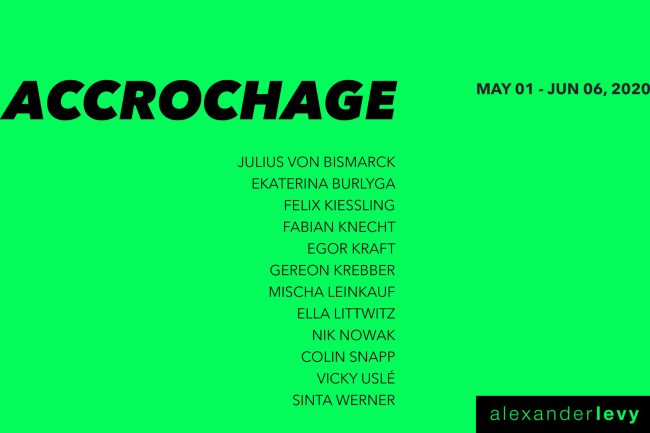 alexander levy
Rudi-Dutschke-Strasse 26
10969 Berlin
Due to the current situation we postponed our exhibition Taumel by Felix Kiessling to September 2020 in conjunction with the official Gallery Weekend Berlin.
In this difficult time we cannot make any plans and won't invite an artist for an exhibition that would not get the attention it deserves.
We are pleased to use this time for another great initiative: Please have a look at our Accrochage – a selection of works by: Julius von Bismarck, Ekaterina Burlyga, Felix Kiessling, Fabian Knecht, Egor Kraft, Gereon Krebber, Ella Littwitz, Mischa Leinkauf, Nik Nowak, Colin Snapp, Vicky Uslé and Sinta Werner.
The online brochure accompaning the exhibition in the gallery gives you a special insight into the artists' practices narrating background stories of the works.
You are very welcome to visit the gallery by appointment.