The Rehearsal: Poetry Jazz in Addis Ababa. An Essay by Eric Ellingsen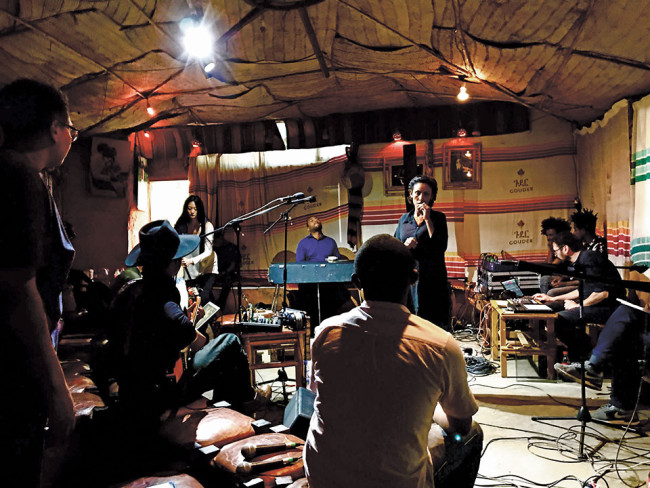 The Rehearsal: Poetry Jazz in Addis Ababa
Essay by Eric Ellingsen
"Poetry is not a form, but rather a result." – Amiri Baraka
In front of an average crowd of about 1,500 people, a group of poets and musicians perform in Ethiopia. Combining Wax and Gold poetry, music, and dance, a group known as Tobiya Poetry-Jazz acts as political ambassadors telling Ethiopia's stories. The story behind the scenes, though, is a compelling one.
The date is March 24, 2018. Addis Ababa is in its second state of emergency. The new and current prime minister of Ethiopia, Abiy Ahmed Ali, will be appointed nine days from now, though nobody now knows who will be appointed or the day the appointment will occur.
During this same spring, a group of German, US, and Ethiopian musicians, poets, artists, and curators met in Addis Ababa for the fifth edition of Poetry-Jazz. Poetry-jazz has become a form of art practiced by different groups in Addis Ababa. For the last five years, our semirotating group of artists, Poetry-Jazz, has been supported by the TURN Fund of the German Federal Cultural Foundation. These gatherings materialize as public performances, platforms, and publications reflecting the artists' role as political ambassadors. We are meeting for the fifth time in six years in a kind of creative hopscotch, traveling between Berlin and Addis Ababa. Together, we instigate a semi-ancient form of Ethiopian poetry called Wax and Gold. This time we all agree that the gold, usually hidden in the wax, is to be on the outside of what we make together. We want all gold, heavy things, heaviness itself, something solid that melts, like some heavy metals, at the temperature of the hand. We seek the gold through a form known as poetry-jazz, which combines music and poetry. Songs in Ethiopia are stories, physical spaces where history is continually approached, negotiated, tuned, and re-turned to. If poetry resists the intelligence almost successfully, as Wallace Stevens says, then in poetry-jazz rehearsals, we seek the almost more than the absolutely there, the almost more than the already there waiting-for-you-to-arrive. And when the poets don't know where to go next, the musicians go there. (…)

Read full article The Rehearsal: Poetry-Jazz in Addis Ababa by Eric Ellingsen on World Literature Today.
Read Tales of Silence: A Poem in Three Language by Mihret Kebede translated by Nebiy Mekonnen, Eric Ellingsen and Rike Scheffler on World Literature Today here.
Read A Sound Flag in Six Colors by Eric Ellingsen and Mihret Kebede on World Literature Today here.
Read Transformations: A Poem Refracted through Three Languages by Cia Rinne and Nebiy Mekonnen on World Literature Today here.