NOWs: Ziggy & The Starfish at Roskilde Festival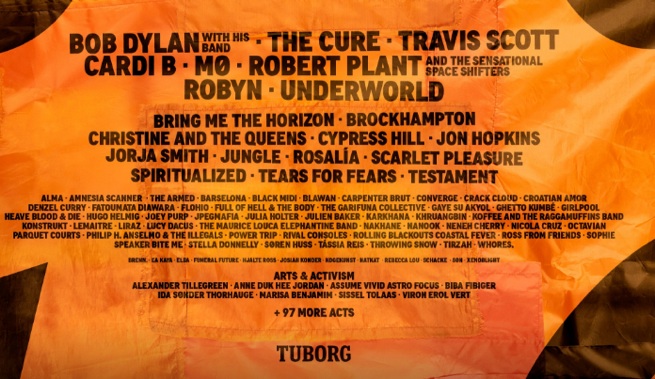 Solo exhibition by Anne Duk Hee Jordan
See the world from a fish perspective in Anne Duk Hee Jordan's Ziggy & The Starfish
Make yourself comfortable in the enormous bed covered by a blue fishnet curtain, which makes up Anne Duk Hee Jordan's installation Ziggy & The Starfish. Here, you will see a vibrant and seductive performative mating dance taking place among sea slugs, octopuses and star fish, which are affected by climate change.
By zooming in on a microcosm that many people have forgotten, Ziggy & The Starfish examines how humans use and treat the environment and the ocean in particular, but also how sea animals have a fluid and diverse sexuality. Through a playful and humorous approach, Anne Duk Hee Jordan illustrates new perspectives on climate change and their tangible effects on the hormones of living organisms by allowing us to experience the world through the eyes of the sealife. The title also refers to the late David Bowie's androgynous glam alter ego Ziggy Stardust in the early 70s.
The accessory large board 'Changing Sex in Ecology' next to the bed installation gives an overview of how animals and humans are adapting to climate change today. The work and research are created in collaboration with curator and writer Pauline Doutreluingne.
Ziggy & The Starfish and Changing Sex in Ecology are part of the exhibition Sensorium: A Laboratory for the Deceleration of the Body and for a New Politics of the Senses, curated by Solvej Helweg Ovesen and co-produced by the Riga International Biennale of Contemporary Art, 2018. Ziggy & the Starfish is created by Anne Hee Duk, and the bed is designed by her and Tilman Wendland.