Baghdad Walk I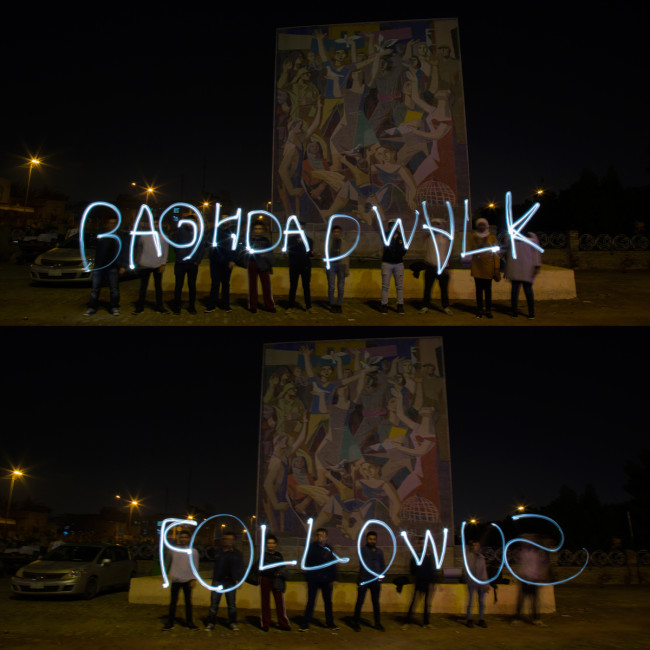 BAGHDAD WALK
Group exhibition in public space
Baghdad Walk is a group exhibition by emerging Iraqi artists presented in the public space and in different locations in Karada, Baghdad. The walk starts at Iraqi Independent Film Centre, leads along Al Rasheed Street to Midan Square, connects Tayeran Square, Tahrir Square and Kahramana Square, spreads along the Abu Nawas riverside and meanders through Karada neighborhood, featuring time-based works and interventions.
Baghdad Walk is an exhibition and a narrative tour of the city. The participating artists connect their works with the specific locations, introducing background information on site. Manifold stories about the city of Baghdad are told and retold anew through the artists' perspectives and the encounters they create.
Participants:
Ahmed Al Saad, Tabarek Al Atrakchi, Akram Assam, Ameen Mokdad, Ammar Hussein, Atef Al Jaffal, Hussam Mohammed, Hussain Muttar, Loay Al Hadhary, Muhaned Taha, Zaid Saad.
—
Please find the project's bilingual (Englisch-Arabic) website here.
—
Baghdad Walk is the result of a workshop series Arts Seminar in Baghdad, conceived and organised by the Goethe-Institut Irak, in collaboration with the Institut für Raumexperimente (Institut for Spatial Experiments), Berlin and hosted by TARKIB Baghdad Contemporary Arts Institute in BAIT TARKIB. Hosted by TARKIB Baghdad Contemporary Arts Institute. Choreographed by Hella Mewis and Christina Werner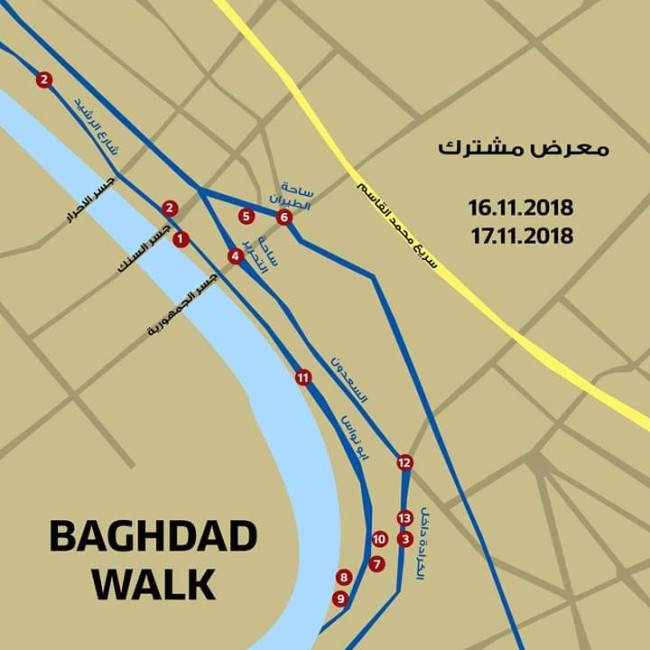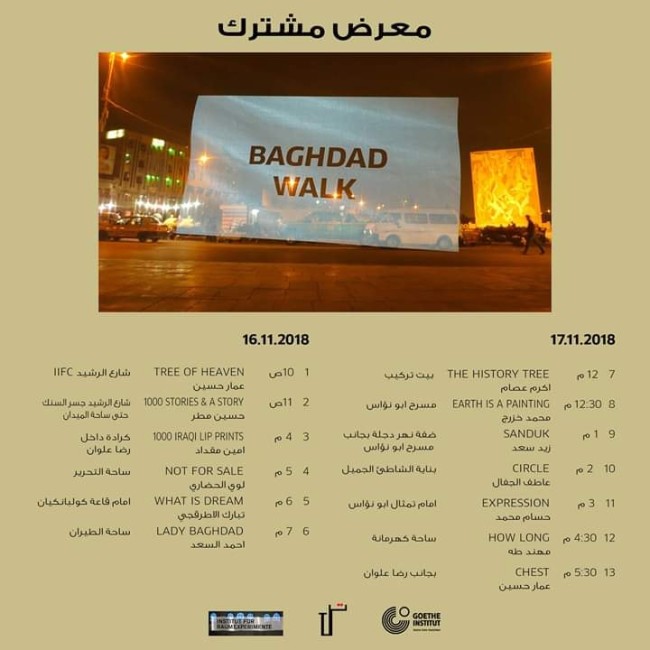 The two-day walk started at the Iraqi Independent Film Centre, led along Al Rasheed Street to Midan Square, connected Karada Dajel with Tayeran Square and Tahrir Square; it led from Tarkib Baghdad Contemporary Arts Institute to the Abu Nawas Theater, spread along the Abu Nawas riverside and meandered through Karada neighborhood from Kahramana Square to Ridah Alwan Coffeeshop. Please find the documentation of each of the artist's interventions on the following pages. Photo by Anees Amer Photo by Anees Amer Photo by Christina Werner Photo by Anees Amer Photo by Yasir Razaq/Mahdi Al-Shididy Photo by Anees Amer Photo by Anees Amer Photo by Yasir Razaq/Mahdi Al-Shididy Photo by Anees Amer Photo by Hella Mewis Photo by Christina Werner Photo by Hella Mewis Photo by Yasir Razaq/Mahdi Al-Shididy Photo by Christina Werner Photo by Hella Mewis Photo by Hella Mewis Photo by Christina Werner Photo by Hella Mewis The two-day walk started at the Iraqi Independent Film Centre, led along Al Rasheed Street to Midan Square, connected Karada Dajel with Tayeran Square and Tahrir Square; it led from Tarkib Baghdad Contemporary Arts Institute to the Abu Nawas Theater, spread along the Abu Nawas riverside and meandered through Karada neighborhood from Kahramana Square to Ridah Alwan Coffeeshop. Please find the documentation of each of the artist's interventions on the following pages. Photo by Anees Amer Photo by Anees Amer Photo by Christina Werner Photo by Anees Amer Photo by Yasir Razaq/Mahdi Al-Shididy Photo by Anees Amer Photo by Anees Amer Photo by Yasir Razaq/Mahdi Al-Shididy Photo by Anees Amer Photo by Hella Mewis Photo by Christina Werner Photo by Hella Mewis Photo by Yasir Razaq/Mahdi Al-Shididy Photo by Christina Werner Photo by Hella Mewis Photo by Hella Mewis Photo by Christina Werner Photo by Hella Mewis